'Once Upon A Time In Hollywood' New Trailer, Tarantino Asks "No Spoilers" From Cannes
Quinten Tarantino's 9th feature film, Once Upon A Time…In Hollywood has had it's official premiere. Following this, a new official full-length trailer for the flick was released to international audiences.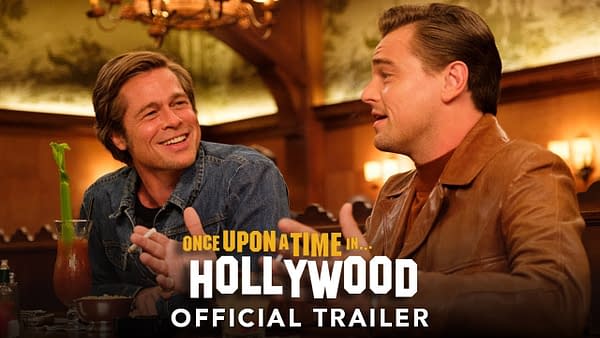 The story is familiar, at least for those who know the tale of Charles Manson and his "family" during the 1969 string of murders, including actress and model Sharon Tate. Tarantino wrote and directed the film, which boasts a seriously impressive cast including Brad Pitt, Leonardo DiCaprio, Margot Robbie, Al Pacino, Tim Roth, Damian Lewis, Dakota Fanning, Kurt Russell, Timothy Olyphant, and Michael Madsen just to name a few. Damon Herriman is playing Charles Manson.
The film will follow a faded TV actor and his stunt double embark on an odyssey to make a name for themselves during the Helter Skelter reign of terror in 1969 Los Angeles.
Quentin Tarantino's Once Upon a Time… in Hollywood visits 1969 Los Angeles, where everything is changing, as TV star Rick Dalton (Leonardo DiCaprio) and his longtime stunt double Cliff Booth (Brad Pitt) make their way around an industry they hardly recognize anymore. The ninth film from the writer-director features a large ensemble cast and multiple storylines in a tribute to the final moments of Hollywood's golden age.
Robbie shared this note, apparently from Tarantino, requesting the first audiences to see the film at the Cannes International Film Festival stay mum on plot twists, and to not spoil the film.
Once Upon a Time…In Hollywood will hit theaters on July 26th 2019.