DC/Marvel Clash Helps Doom Wonder Woman TV Reboot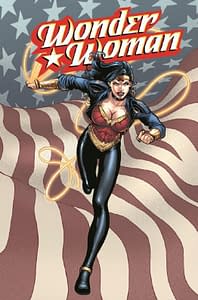 In an situation that would seem to serve as the latest reminder that the competition between Marvel and DC has been redefined on a much broader scale, news is breaking tonight that David E. Kelley's proposed Wonder Woman Television reboot has been shelved for now due to a combination of bad timing, bad fits, and "a potential DC-Marvel clash":
Fox and ABC passed, while WBTV's sister network the CW could not afford it. While the project was never considered a fit for Fox and was taken to the network mostly out of courtesy, the ABC pass was more politically motivated. With its empowered female lead, Wonder Woman seems well suited for for the network, but word is a potential DC-Marvel clash got in the way. ABC parent Disney acquired Marvel last year for $4 billion, and ABC and Marvel have been busy developing Marvel properties, including a Hulk series with Guillermo del Toro and David Eick and an adaptation of a Marvel female superhero, Jessica Jones, with Twilight writer Melissa Rosenberg.