"Terminator": Linda Hamilton Believes Box Office Killed Franchise, Reluctant to Return
Director Tim Miller and producer James Cameron made Terminator: Dark Fate in the hope to reinvigorate the franchise. Despite positive reception from critics and audiences alike according to Rotten Tomatoes, the film severely underperformed at the box office. The film lost over $100 million for studios Paramount and Skydance. Franchise star Linda Hamilton spoke to Cinema Blend about possible reasons from fatigue to her future franchise status.
"Terminator: Dark Fate" Summary
Dark Fate retcons the events of Rise of the Machines (2003), Salvation (2009), and Genisys (2015). The opening minutes of the film takes audiences to the events of Terminator 2: Judgement Day and years since. Sarah (Hamilton) and her son John (Edward Furlong) still found themselves fleeing from additional terminators SkyNet sent into the past. One of the T-800s (Arnold Schwarzenegger) locates them and assassinates John. The film used de-aging CG on the three actors.
Rather than deactivate from the completed mission, the fall of SkyNet from the conclusion of T2 created a logistical paradox as the machine learned to live among humans as Carl. He cryptically sends coordinates to Sarah for her to take out other terminators. Among them is the location of a Rev-9 (Gabriel Luna), who comes from an alternate future where machines still take over, but under a different name called Legion.
Rev-9's target is Dani Ramos (Natalya Reyes), who replaces John as the leader of the human resistance in the new timeline. Her protector is a cybernetically-enhanced human Grace (Mackenzie Davis), who unlike Carl retains her emotions and feels pain. The film retains the franchise theme of "There is no fate but what we make" from previous entries. Though the future changed, another takes its place and it may not be the one you expect.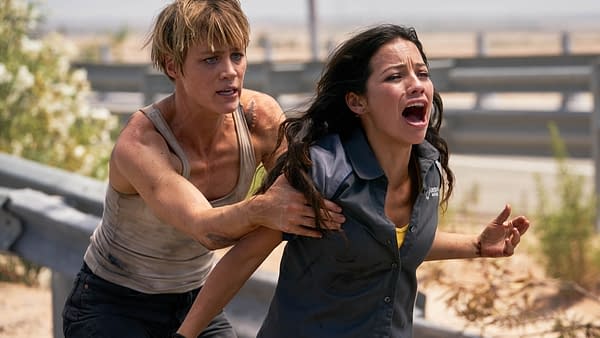 Dark Fate's Intentions
Dark Fate didn't retcon T2's impact, but it allowed the passing of the torch to new character and face. Dani is now the prophesized hero and if there's another sequel, a target in what created Legion. Despite a satisfying ending to Hamilton's character becoming Dani's mentor, Hamilton doubts the likelihood of her return to the Terminator franchise.
"I really think that box office is gonna be the thing that killed Terminator. Of course it's the studios that put hundreds of millions of dollars into a film, but it's just a fickle world in terms of fandom and maybe they were just worn out by the Terminators that preceded. I don't have any desire to continue. I never did."
Hamilton's motivation to return predicates if the next story and premise proved worthy for her attention.
"Only if there's something really viable in the script and story and characters, would I ever consider doing it again. Otherwise it's just diminishing returns, isn't it?"
Terminator: Dark Fate is now available for home release.