Patrick Wilson Says "The Conjuring 3" Will Challenge the Warrens
Patrick Wilson definitely knows how to keep fans happy, as the actor first spoke up about the idea of returning for another Insidious film in addition to what the third Conjuring film could look like. The extremely busy actor insinuated that the film will take both Ed and Lorraine Warren to places they haven't been, explaining to The Hollywood Reporter:
I knew going into it that James had a real strong hand in the story and script, and I talked to him a lot about it. Then, once I met [director] Michael Chaves, his energy, his skill set and his passion for it was really infectious. I knew that he was gonna take the reins, both with great respect, but still has its own passion. The process was fantastic, and it's a much different feel. It's still the same bones; it's still very much Ed and Lorraine. Again, we are pushing our characters to places they haven't gone, but the film will be a really nice addition because it's definitely a different beast. Pun intended.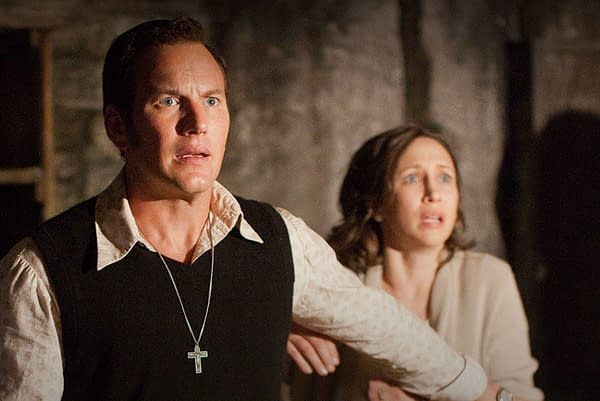 The Conjuring universe has really transformed itself into something rare, with a total of 10 films that have been released, are in production or have been announced. While The Conjuring 2 was released in 2016, the franchise used time in-between to shift focus to films like The Nun and The Curse of La Llorona and even two Annabelle films that have proven Warner Bros. can continue to create several films with a solid box-office run. Wilson also addressed the spin-off films and what it's like to return to the film series that started it all, saying:
It was exciting; it was really, really exciting. Because of the spinoffs, when you come back to the flagship movies, I want to feel like, "OK, now we're back in the Conjuring world." There's a different weight to those movies just in scope alone, budget, time to shoot it and all that stuff. It's got great producers, and honestly, a super happy and supportive studio. So it's a lot of positivity even though you're dealing with a lot of negative demons.
The Conjuring 3 plot details remain scarce at the moment, but one thing that we have heard is that it'll deviate from your standard haunted house setting that the first two films followed. No matter what the Warrens are up against, just returning to the primary films with Wilson and Vera Farmiga will be an epic horror story that we'll be excited to see when released on September 11, 2020.