Superstar actress Rebel Wilson will produce and star in Crowded, an adaptation of the upcoming comic of the same name created by Christopher Sebela, Ro Stein, and Ted Brandt. In what's known in the comics industry as "pulling a Millar," the team managed to sell the movie writes to their comic before the first issue hit stands. Published by Image Comics, Crowded #1 will hit stores on August 15th.
Here's the solicit for the first issue:
CROWDED #1
Writer: Christopher Sebela
Artist / Cover: Ro Stein, Ted Brandt
Colors: Triona Farrell
Variant Cover: Rachel Stott
Published: August 15, 2018
Diamond ID: JUN18004
Age Rating: T+

SERIES PREMIERE Ten minutes in the future, the world runs on an economy of job shares and apps, including Reapr: a crowdfunding platform to fund assassinations. Charlie Ellison leads a quiet, normal life until she's suddenly targeted by a million-dollar Reapr campaign. Hunted by all of Los Angeles, Charlie hires Vita, the lowest-rated bodyguard on the Dfend app. As the campaign picks up speed, they'll have to figure out who wants Charlie dead before the campaign's 30 days—or their lives—are over. From Eisner-nominated writer CHRISTOPHER SEBELA (Heartthrob, We(l)come Back, Harley Quinn), RO STEIN & TED BRANDT (Captain Marvel, Raven: The Pirate Princess), TRIONA FARRELL (Runaways, Mech Cadet Yu), and CARDINAL RAE (BINGO LOVE, ROSE). COMPARISON TITLES If the near-future implications of social media and technology in Semahn and Corona's NO. 1 WITH A BULLET had you on the edge of your seat, you'll love CROWDED.
THR had the scoop on this, and reports that Oni Entertainment (yes, Oni, not Image) will also produce alongside Wilson's Camp Sugar banner. Sebela will serve as consulting producer. Crowded first launched on Kickstarter earlier this year. Congratulations to the creators for getting their series into the comic book endgame (a movie adaptation) so quickly.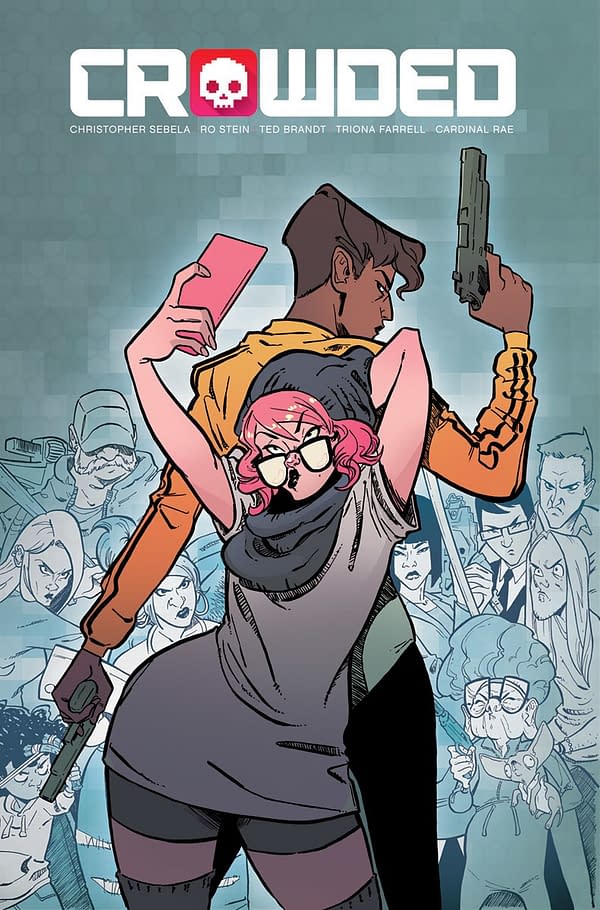 Enjoyed this article? Share it!