The Rob Zombie Firefly Trilogy Coming To Blu-ray Steelbook At Target
Rob Zombie trilogy of films House of 1000 Corpses, The Devil's Rejects, and 3 From Hell, otherwise known as the Firefly Trilogy, is getting a special Steelbook release this September. This Blu-ray/Digital release will include the unrated versions of Rejects and 3 From Hell, all housed in the collectible steel case featuring brand new artwork by Vance Kelly. The Rob Zombie creations are front and center on the cover, with memorable characters from the films adorning the back. The trilogy will run you $29.99 to pick up and is also up for preorder on Target's website for release on September 8th. Rob Zombie teased the set on social media last week. You can see the Steelbook itself down below.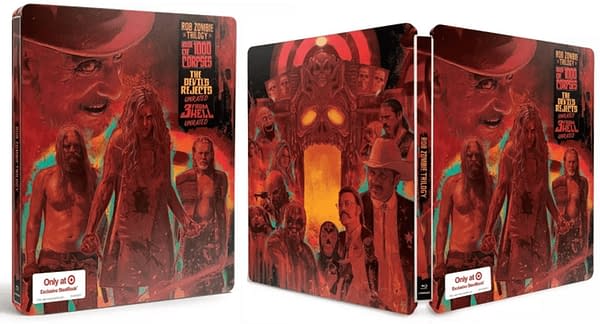 Rob Zombie Firefly Trilogy Details
"Details have been released by Lionsgate about the Rob Zombie Firefly Family Trilogy Steelbook Blu-Ray, which RZ teased a few days ago. This exclusive box-set (Blu-Ray/Digital Combo) will be available at Target and is available for purchase from September 8th for $29.99. The terrifying trilogy follows the blood-soaked saga of the depraved Firefly family, including House of 1000 Corpses, The Devils Rejects (unrated version), and 3 From Hell (unrated version). The artwork for this exquisite Steelbook has been created by Vance Kelly. Kelly is an award-winning illustrator, fine artist, printmaker, and graphic designer."
I wish that I thought all three of these were good films. I liked 1000 Corpses, and Devil's Rejects is Rob Zombie's best film to date, but I really disliked 3 From Hell. I wanted to like it, but he has lost something as a filmmaker for me. His last couple of films, especially 31 and 3 From Hell, have been a complete mess. For $30, though, it will be cool to have all three in one place, so I will still buy it for the first two and just pretend the Firefly's didn't make it out alive.