This may be one of the sweetest looks at the upcoming first live-action Pokémon movie, Detective Pikachu. Set to Louis Armstrong's "What A Wonderful World", we get a longer look at the Pokémon in their natural environments- out in the forest.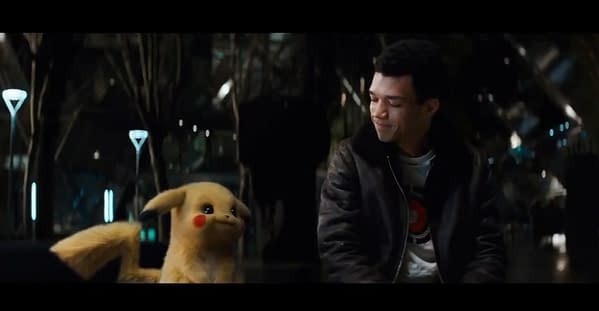 Tim (Justice Smith) carries Pikachu, who looks decidedly worse for wear, and the surprise tear-jerker moment at the end teases the emotional core of their relationship:
A little shot of wonderful for a weary world. #DetectivePikachu pic.twitter.com/xUAeGkTbZC

— Ryan Reynolds (@VancityReynolds) April 22, 2019
"The story begins when ace detective Harry Goodman goes mysteriously missing, prompting his 21-year-old son Tim to find out what happened. Aiding in the investigation is Harry's former Pokémon partner, Detective Pikachu: a hilariously wise-cracking, adorable super-sleuth who is a puzzlement even to himself. Finding that they are uniquely equipped to communicate with one another, Tim and Pikachu join forces on a thrilling adventure to unravel the tangled mystery.

Chasing clues together through the neon-lit streets of Ryme City—a sprawling, modern metropolis where humans and Pokémon live side by side in a hyper-realistic live-action world—they encounter a diverse cast of Pokémon characters and uncover a shocking plot that could destroy this peaceful co-existence and threaten the whole Pokémon universe."
The first live-action Pokémon film is directed by Rob Letterman, and co-written by Nicole Perlman. The film starsRyan Reynolds (as the voice of the titular Pikachu), Justice Smith, Kathryn Newton, Ken Watanabe, Khary Payton, Bill Nighy, Suki Waterhouse, Chris Geere, Rita Ora, and Omar Chaparro.
Detective Pikachu is set to hit theaters on May 10th 2019, and Legendary is reportedly already working on a sequel.
Enjoyed this article? Share it!