Andrew Robinson Chats 'Deep Space Nine', Garak, 'What We Left Behind' Documentary
As a longtime Star Trek: Deep Space Nine fan, this has been a super surreal week of work interviews, readers. Seriously. You can kind of sort of get the impression of fulfilling a fangirl's dream when I got to speak with Nana Visitor, who played Major Kira Nerys on the third live-action Star Trek series (which you can read here), Armin Shimerman who played Ferengi bartender Quark (which you can read here), and continued with Andrew Robinson who played Cardassian tailor and spymaster Elim Garak.
I also managed to sneak a Hellraiser reboot question in too!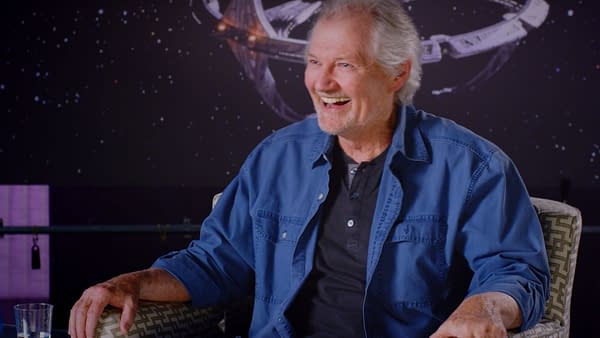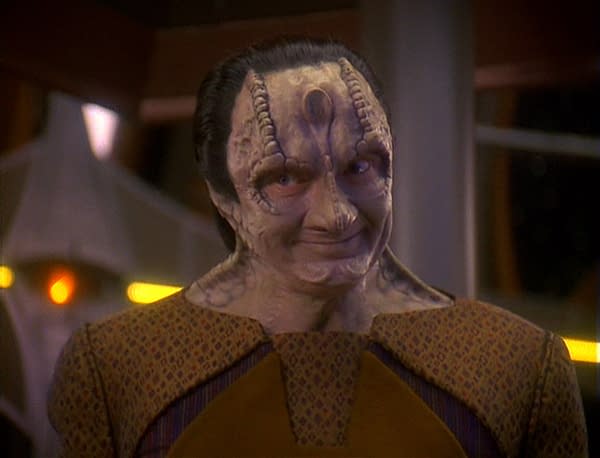 The DS9 family granted some interviews to chat about the upcoming long-gestating documentary, What We Left Behind, which will have a theatrical release on Monday May 13th thanks to Fathom Events and SHOUT! Studios, the latter holding the worldwide distribution rights for the incredible doc.
[This interview has been edited for clarity, and attempts to lessen the fangirl reactions.]
Andrew: Hello there, how are YOU doing today?
Mab: Gotta be honest, this is the most surreal day for someone who's favorite Star Trek is Deep Space Nine. It's amazing. I wish I could go back in time and tell middle-school me this would be happening.
Andrew: [laughs] Right, with all of these chats.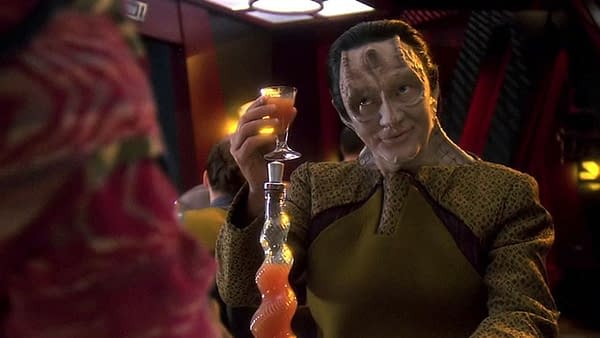 Mab: So. Andrew. You were Garak, you still kind of are Garak, since no one else ever was or will be.
Andrew: I was indeed.
Mab: You continued playing the character in the various video games as well, which doesn't always happen. In a way, you never really stopped.
Andrew: In a sense it's really so unique as an actor who started on a show way back when, we're not only still talking about it, but celebrating it. With the video games, and the documentary, it's pretty extraordinary.
Mab: How much of you, Andy, was in the character?
Andrew: The thing is, you get a role, and you pray it's well-written. When I say that, I mean that it's fleshed out, specifics about the character, that there is dimension. Perhaps the most important part of Garak was that he was well-written. Beyond that, everything else was me. Even though I'm not as skilled a liar as Garak is, I learned how to lie well. It's not something you'd think of as being a positive to learn, but as an actor, it's important to learn how to lie well. It's probably the only thing I had to work harder on.
Mab: Oh so you knew how to sew then!
Andrew: [laughs] No! No no, I didn't, but honestly I never did learn how to sew.
Mab: One of the wonderful parts of the documentary (of which there are SEVERAL) has questions of fans about their favorite characters. Garak was a common answer, him being one of the best characters in the series, how does that make you feel as the man behind the neck ridges?
Andrew: Surprised as hell. Hearing that of the 170 episodes, I was in 39. I'm grateful, indeed grateful. And Garak may be emblematic of the series as a whole, in that he was neither good nor bad. He was not a black or white character, just as Deep Space Nine wasn't your conventional star trek series. More ambiguous, more grey to it. And the mystery of Garak over the years, you don't really know where he's coming from, or what he represents. The mystery of him is what holds up.
Mab: One of the things Ira [Stephen Behr] says in the doc is if he were to do the show again, if it were on right now, he would go forward with the notion that Garak was gay.
Andrew: I had kind of hoped they would have explored that a little more, but that's ok. The times were the times, and now is a different time than then. I came up with the idea, not so much of Garak being gay, but when I first got the job, I didn't know what a Cardassian was. I had to figure out how to play a Cardassian, what are the tastes and behaviors of a Cardassian.
When I was first introduced in that first episode, to get involved in a relationship with Dr. Bashir, what is that initial attraction? Is it just me being calculating to exploit this young man, to get information from him? I thought "yeah I could do that," but as an actor, I wanted to make the more interesting choice. So for me, as an actor, I chose to be sexually attracted to Dr. Bashir. And then that leads into a deeper and longer lasting relationship.
Mab: Was there anything you discovered about the character during the documentary? Something that maybe you weren't aware of during filming, or something that just came to light during the production of the doc?
Andrew: Not really, because I was playing Garak as he came to me. As each script came to me, and as the character evolved over the years. For the, probably the most satisfying aspect was how he grew. And it was clear that the writers loved writing for him. I eagerly awaited each episode Garak appeared in, because we knew there was always something knew revealed about him
And then in the last season, when Garak basically became a freedom fighter, the story arc, I was just blown away by what they wrote for him. I feel like he was complete, when the series ended, I was thoroughly satisfied.
Mab: What would you tell someone just coming to the series for the first time? Someone suddenly discovering the show, what would you tell them about it or your character?
Andrew: Start from the beginning. Start from the beginning, and just see what eventually became a great series, how it evolved. Because in the beginning, it was more conventional, as each individual episode was self-contained, each had it's own story, and they were brilliant, social and politically conscious stories like "Duet", "The Wire", and "By Pale Moonlight".
But stay with it, watch how the storytelling changes, how it evolves into the long narrative arc that is common-place for television series that wasn't a thing at that time. You can see that shift happening. Because of the unique circumstances that Ira Behr, not only had his wonderful cast of series regulars, but how we brought in all of us, the Jeffrey Combs, the Casey Biggs, the Chase Mastersons, the Max Grodénchiks, the Andy Robinsons, to come in and fill that universe so that he created this huge canvas to tell this epic story, in an epic narrative.
Mab: My last question isn't a Star Trek one, but has to do with some news that just came out, that there is going to be a Hellraiser reboot. [Andrew was in the original Clive Barker film as Larry] And I was wondering if maybe you had any thoughts about it?
Andrew: I don't know how they would improve!! Hellraiser was unique. Clive Barker wrote and directed it. if they do it, it'll be a very different thing. That original Hellraiser was one of a kind. [laughs] It was the weirdest, and in a sense strangest and most disturbing film I've ever done.
***
Thank you again x1000000 to Shout for organizing the interview, and to Mr. Robinson for his time.
What We Left Behind hits theaters for one night only on Monday May 13th through Fathom Events.
---
---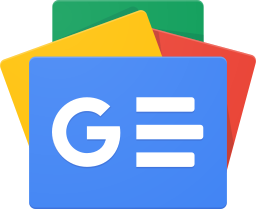 Stay up-to-date and support the site by following Bleeding Cool on Google News today!