Scream 6: Neve Campbell Not Returning, Will Be "Bloodiest Yet"
Scream 6 starts filming any day now, but Ghostface will not be able to get to Sydney in this one. Neve Campbell will not be back for the sixth installment, as our friends at Bloody Disgusting reported today, with the actress telling fans at conventions she will not return. She could be pulling a fast one, but I doubt it. This year's Scream film was a perfect ending for the character, and I don't need to see her die on screen. Meanwhile, Jenna Ortega just told Entertainment Tonight that Scream 6 will be the bloodiest yet: "Ghostface gets a lot more intimidating. I just read part of the script, and it just gets more and more gory. I think that this is probably the most aggressive and violent version of Ghostface we've ever seen, which I think will really be fun to shoot."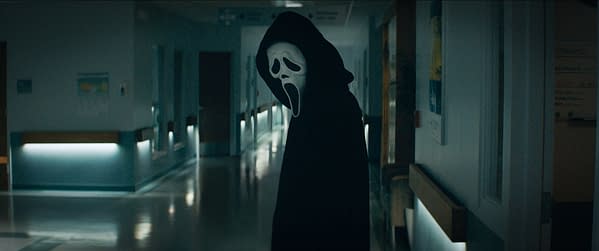 Scream 6 Films This Summer
Melissa Barrera (Sam), Jasmin Savoy Brown (Mindy), Mason Gooding (Chad), and Jenna Ortega (Tara) will all be back, as they were the ones who survived Ghostfaces' rampage in this year's film. From what she said in interviews, Courtney Cox will also be in the movie, as will Hayden Panettiere as Scream 4 character Kirby. Dermot Mulroney was added to the cast last week as well. The entire creative team from this year's Scream film will be back for Scream 6, with Matt Bettinelli-Olpin & Tyler Gillett back to direct, and it will be produced by Chad Villella of the filmmaking group Radio Silence. The screenplay is by James Vanderbilt and Guy Busick.
Honestly, this is the best-case scenario for the film. What we know so far from an official description is that Scream 6 "continues the saga with the four survivors of the Ghostface killings as they leave Woodsboro behind and start a fresh chapter." I gotta think that if Cox comes back, she is going to die this time as well. Leave the franchise to the new generation. Scream 6 goes in front of cameras this summer for a March 31st, 2023 release.