"The Crow": Cursed Reboot Back in Development Hell
Sony Pictures hit the reset on The Crow reboot. Samuel Hadida's Davis Films, Highland Film Group, and Electic Shadow acquired the rights to finance, produce and distribute the film are still looking to bring back the supernatural hero back to the big screen, according to Bloody-Disgusting. The trio is actively seeking a new director and writer.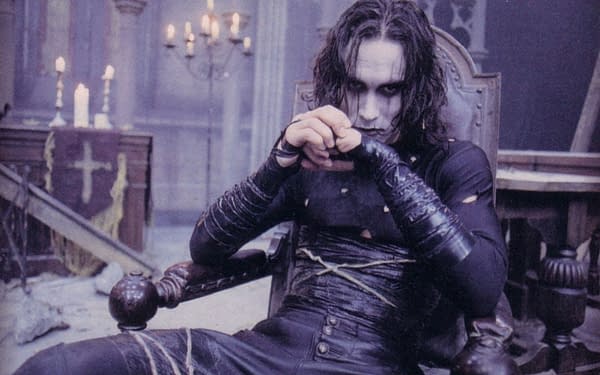 Sony kept delaying the reboot's release as behind the scenes problems emerged. Director Corin Hardy (The Nun) and star Jason Mamoa, once attached, abandoned the project since.
"The Crow" – Death of Brandon Lee
Based on the James O'Barr work, Miramax released Alex Proyas' 1994 film despite the grisly fate met by star Brandon Lee. A malfunctioning prop gun killed Lee in 1993 before shooting completed. Proyas used stand-ins for Lee to finish the film. When news broke of the reboot, the director fiercely came out against it.
The 1994 film and the reboot centers on Eric Draven (Lee), a rock musician who rises from the grave to avenge his and his fiancé's deaths. Draven discovers a crow grants him superhuman strength and healing abilities. With the aid of an orphan Sarah (Rochelle Davis) and a beat cop Albrecht (Ernie Hudson), the vengeful soul kills his way up a criminal organization.
The film more than doubled its original budget at the box office earning $50.7 million. Its success led to inferior sequels in The Crow: City of Angels (1996), The Crow: Salvation (2000), and The Crow: Wicked Prayer. Each film featured a different actor as a different crow. The Crow: Starway to Heaven (1998) was a Canadian television series featuring Mark Dacascos as Draven.
Like his father Bruce Lee before him, Brandon was immortalized for his final role and premature death. The 1994 film since garnered a greater cult following. Lee's Draven became as iconic as Al Pacino's Tony Montana in Scarface (1983).
Is the franchise cursed? Would you see the reboot if made?