'Spider-Verse' Had a Cut 'Spider-Man: Turn Off The Dark' Joke Too!
Earlier this week, we let you know about a particular hammy joke that was ultimately cut from the Oscar-nominated, Sony-animated film Spider-Man: Into The Spider-Verse. Turns out it wasn't the ONLY joke deemed unworthy.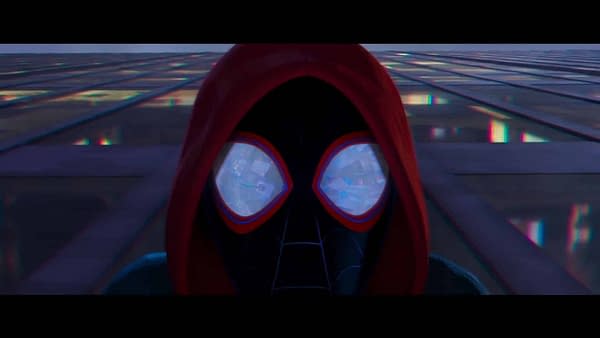 Back in 2010, Bono and The Edge of U2 fame wrote a musical for director Julie Taymor based on the Marvel Comics web-slinging hero called "Spider-Man: Turn Off The Dark". Things didn't go so great for the musical, as the show suffered constant setbacks and multiple stunt performer injuries before the show even opened.
Producer and script co-writer Phil Lord revealed to SYFY Wire this week in an interview that there was actually a "Turn Off The Dark" joke in Spider-Man: Into The Spider-Verse, but it was cut from the final film:
"There used to be a Turn Off the Dark joke in the movie, but there just wasn't time for it. There was a moment before Miles [Morales] came back to Aunt May's, after he found out about the Prowler. They're all hanging around waiting for him and they're all talking about Spider-Man in their various different universes. And Peter B. Parker said, 'Yeah, there's a crazy musical that Bono did in my universe,' and they're all like 'that's crazy!'

Unfortunately, the urgency and pacing of the movie didn't have time to slow down and have everyone just chatting about musicals.
Producer Chris Miller (of course) made a joke about the time being used for a "more important" joke saying, "We needed to do a Rubix cube joke. Much more important."
Spider-Man: Into The Spider-Verse is still in select theaters, and we'll be finding out on February 28th if it takes home the Academy Award for Best Animated Feature.