Harrison Ford Remembers 'Star Wars' Co-Pilot and Friend, Peter Mayhew
Sporting a dog nose to promote The Secret Life of Pets 2, Harrison Ford took some time to reflect on his Star Wars best friend and co-pilot Chewbacca, brought to life by the late Peter Mayhew during a stop by The Tonight Show Starring Jimmy Fallon.
The 76-year old Oscar nominee who played rogue smuggler Han Solo in four Star Wars films, spoke with Jimmy Fallon about Mayhew's physical struggles on the set, but revered his dedication to the role.
"[Peter] was a really sweet man…nice man. He had hard time physically. It was really hard for him to do physically for us…for all of us. He did it with real dignity and class. He was really a neat guy. I miss him."
Ford praised Mayhew's devotion to the Star Wars franchise and it's millions of fans, as well as being intricate to its success. The two first paired off in 1977's A New Hope, followed by 1980's The Empire Strikes Back, and 1984's The Return of the Jedi.
Mayhew also made an appearance in the prequel film Revenge of the Sith in 2005.
"Peter Mayhew was a kind and gentle man, possessed of great dignity and noble character. These aspects of his own personality, plus his wit and grace, he brought to Chewbacca. We were partners in film and friends in life for over 30 years and I loved him. He invested his soul in the character and brought great pleasure to the Star Wars audience. Chewbacca was an important part of the success of the films we made together. He knew how important the fans of the franchise were to its continued success and he was devoted to them. I and millions of others will never forget Peter and what he gave us all. My thoughts are with his dear wife Angie and his children. Rest easy, my dear friend…"
Mayhew last played Chewbacca in The Force Awakens (2015), sharing the role with Joonas Suotamo for the more physical scenes before retiring as the character. Suotamo took over the role completely since The Last Jedi (2017), Solo: A Star Wars Story (2018), and the upcoming The Rise of Skywalker (2019).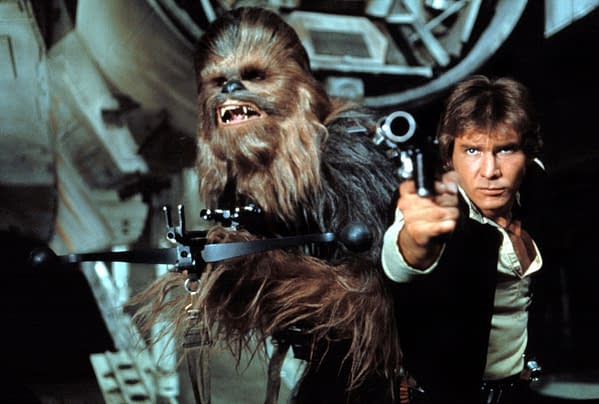 The Secret Life of Pets 2 opens in theaters on June 7th 2019, and Harrison Ford can be heard narrating the upcoming Armstrong documentary releasing on July 11th 2019.
What's your favorite Han-Chewie scene? Sound off below.