Travelers from the two major Disney theme parks in California and Florida of Star Wars Galaxy's Edge will have to contend with a souvenir ban of the spherical "thermal detonator" Coke bottles, because of Transportation Security Administration (TSA) says it looks like a replica explosive. The $5 Coke bottles are among over a 1,000 unique souvenirs that can be purchased at Galaxy's Edge, the newly-opened expansions in Disneyland in Anaheim and Disney World in Orlando.
The bottles come in Coca-Cola, Diet Coke, and Sprite, which are stylized to fit the world of Batuu. The bottles are marked in Aurbesh, the fictional language of Star Wars. The question was asked on Twitter and originally spotted by the Orange County Register.
Thanks for asking! Replica and inert explosives aren't allowed in either carry-on or checked bags.

— AskTSA (@AskTSA) August 13, 2019
The bottles resemble the thermal detonators used in the Star Wars universe. Some have used them for displays and even Christmas tree ornaments. Speaking of which when asked in general if Christmas ornaments are allowed, the TSA Twitter account (@AskTSA) didn't offer specifics on which kinds.
Christmas ornaments are allowed through checkpoint security. Please reach out to your air carrier to ensure your box will fit in the overhead bin or under the seat in front of you. Happy travels.

— AskTSA (@AskTSA) June 28, 2019
Even if a passenger were to remove the cap to the bottle, TSA doubled down on their explanation.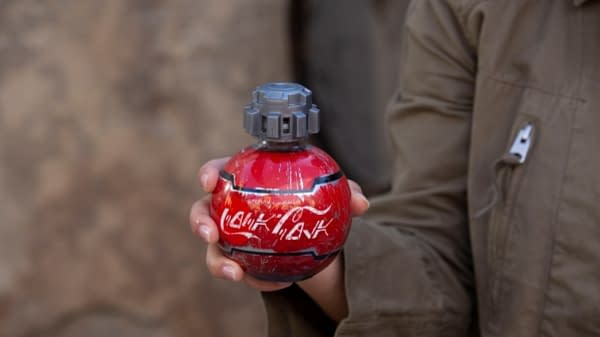 "Even with a normal bottle cap, this item is still considered a replica and is not allowed in carry-on or checked bags. If our officers discover a replica item during screening and believes it's real, the item will be treated as such until advised otherwise by law enforcement."
Disney didn't immediately respond when CNBC reached for comment. The only specific item the TSA will allow Star Wars-related are toy lightsabers as long as it's in their carry-on or checked bag.
Has anyone been able to travel successfully with one of these bottles? Did you try the TSA they're Christmas ornaments? Any Galaxy's Edge travelers have any airport-related stories you want to tell?
Enjoyed this article? Share it!