Chances are, with over $1 billion worldwide from the box office, you've seen Star Wars: The Last Jedi at least once by this point. If you haven't and are concerned about spoilers, go find something else to read as I'll be talking about a plot point or two.
Still here? Great!
In Rian Johnson's The Last Jedi, there are many nods to the history of Star Wars, both official and fan-driven, such as the Hardware Wars iron arm that appears. Other more notable instances have roots set deep within the comics world of the saga, like those dice that hang in the Millenium Falcon.
Lots of questions arose about those little golden cubes that Luke (Mark Hamill) takes from the Falcon's cockpit, mostly regarding their origin and meaning. Considering Leia's (Carrie Fisher) reaction to them when Luke puts them in her hand on Crait with the spoken dialog of "No one's ever really gone", it was a safe bet that they were Han (Harrison Ford) related.
Some fans knew what the dice were, and thanks to a glance back into the archives at Marvel's Star Wars #81 first published in March of 1983, we get proof.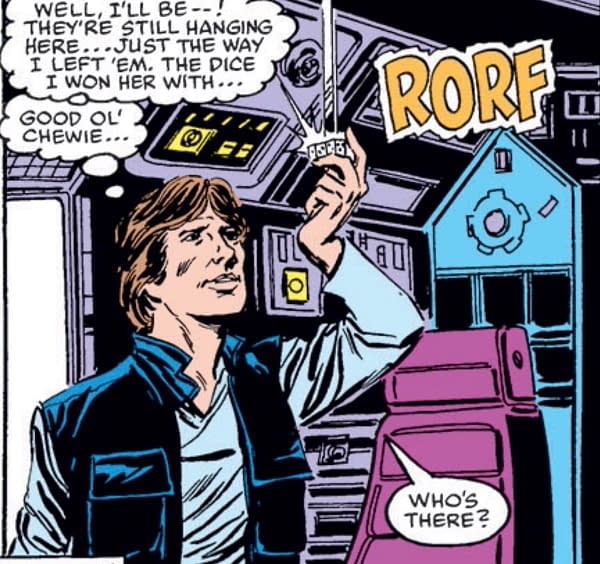 In this cell capture, we see a young Han in the Falcon's cockpit, thinking to himself. 'The dice I won her with', he thinks, and the more well versed Star Wars fans will no doubt make the connection that these dice were probably used during whatever game it was that Han played against Lando Calrissian (Billy Dee Williams) to win the most infamous freighter in the galaxy.
The rest of #81 is really interesting, taking place directly after the action from Star Wars: The Last Jedi and ALSO answering the age old "Did Boba Fett survive the Sarlacc pit?" question. Spoiler- yes, he totally did, only to be picked up by Jawas and eventually tossed back into the pit.
This use of the dice is further proof that Rian Johnson is a big giant nerd, and knew his audience well enough to include such a callback to the comic history of the franchise. Maybe a revisit to the Marvel Star Wars funnypapers is in order.
Enjoyed this article? Share it!