Supergirl Season 3, Episode 16 Recap: Of Two Minds
This article contains spoilers for the Supergirl season three episode – Of Two Minds.
.
.
.
.
.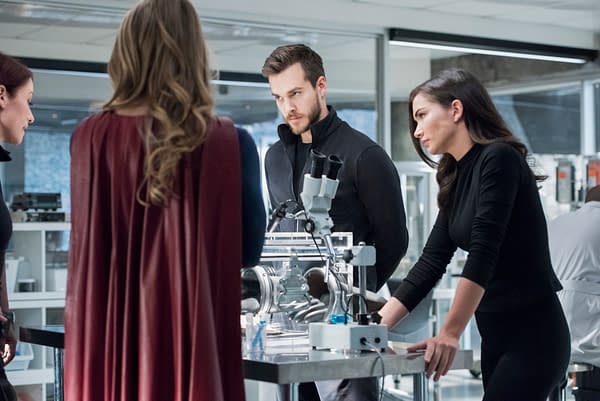 In this episode we get back fully to the WorldKiller storyline and finally meet Pestilence. The episode starts at City Hall with a woman handing out cookies to everyone before one of the higher ups nose starts to bleed. We cut to the DEO where Alex (Chyler Leigh) is examining one of the dead birds from the previous episode and she discovers that they aren't contagious, meaning each one has to come in contact with Pestilence. Imra (Amy Jackson) talks about extracting the cure from the Legion's DNA and using it to kill Pestilence. Kara (Melissa Benoist) reacts badly to that as she doesn't kill. It's obvious this is going to be an issue for them to deal with. The DEO are called into City Hall and try to keep people from panicking, but Imra puts up a force barrier to try and keep Pestilence in. Supergirl tells her to take it down so they can move the people to hospitals. Mon-El (Chris Wood) tries to talk to Imra, but she is set on doing what she sees as necessary while Mon-El thinks they need to try it Kara's way first. Meanwhile Lena (Katie McGrath) is trying to help Sam (Odette Annable) find a cure for being Reign, shocking her to bring Reign out enough to try and find the trigger enzyme, each time Sam goes into an alternate reality where she gets to talk to Reign who at first tries to tempt Sam into giving in and then finally threatens to kill Ruby (Emma Tremblay).
Winn (Jeremy Jordan) finds a potential suspect for Pestilence and Supergirl races there, but finds Imra standing over the woman's dead body… died from the disease as she wasn't Pestilence. But back at the DEO, Winn's nose starts bleeding as he has the disease now too. They try the cure on him but it won't work because it was based on Blight, Pestilence in the future, and they need her current DNA to adjust it properly. Brainiac (Jesse Rath) and Kara figure out who Pestilence is, which is good timing as Alex has also come down with the disease. Pestilence is Dr. Grace Parker (Angela Zhou) and Kara arrives in time to stop her from attacking any of the employees and she tries to reason with Grace. But unlike Sam and Julia (Kris Marshall), Grace likes being Pestilence and believes in what they are doing. She attacks Supergirl and does pretty well by herself again Mon-El and Saturn Girl as well. They fight her to a standstill and Imra hits her with the cure and it's weakening her, but Purity arrives and makes Pestilence stronger. The two Worldkillers take off together.
Imra got DNA on the syringe and Brainiac is able to adjust the cure to save Winn, Alex and the others. Winn immediately goes back to work and tracks Purity and Pestilence on their way to LCorp. Supergirl, Mon-El, Saturn Girl and J'onn J'onzz (David Harewood) race there and find Lena working with Sam. When Purity and Pestilence arrive, they blast the heroes back and free Sam who transforms into Reign. Now all three Worldkillers are together and they freeze the heroes in place while they make their escape. Later Imra and Kara find common ground.
Thoughts on the episode: it was good overall but with some odd plot holes. With the three Worldkillers together, why would they leave when they are obviously more powerful than the four heroes that were there. They could have killed them or at least tried. Lena was getting a bit 'super-villainy' with her insistence that only she could help Sam. And I'm sure her working on Sam without telling the DEO is going to be an issue. The whole Kara/Mon-El/Imra triangle is getting weird, like they're trying to diffuse it without addressing the real issues. I'm not sure I understand an alternate reality for consciousnesses… all that aside, there were some good emotional moments in the episode, something the series is getting better at doing. Even without having his father int he episode, J'onn had a strong moment and a reminder that what he's dealing with doesn't just go away after a week, it's an every day thing.
Next week we get to see what happens when all three of the Worldkillers are together, which is interesting in that it will only be the 17th episode of the season, we can't have them have the big climatic battle next week and then spend six episodes doing Karaoke… can we?
https://youtu.be/xVHN4qqChBE