By Jared Cornelius
Welcome back to Sweet Release! Bleeding Cool's look at the new video games coming to store shelves and digital platforms. With the last entry of Sweet Release! straddling the end of March and the beginning of April, we have a little catching up to do. First off I need to do some housekeeping and update Axiom Verge players that the PlayStation Vita version didn't hit last week with its console big brother. The handheld version will reportedly be available in a few weeks. The second note is that I fell into a vortex and forgot we have several more weeks of the PlayStation Spring Fever sale. So there's no better place to start than the Spring Fever game of the week!
For those hoping for a shiny brand new title in the Spring Fever sale you're out of luck, but keep an open mind because you're still getting a damned good game. Bastion from developer Supergiant Games is an overhead isometric action role-playing game in a similar vein as 16-bit classics like Landstalker and Dark Savior. The story revolves around a character simply known as "The Kid" who survives a cataclysmic event and sets out to create a safe haven in the titular Bastion. With an art style fitting somewhere between hand-drawn Disney and a Miyazaki film, Bastion set itself apart from other games in the genre. It also has the benefit of the smoky voiced narrator, "Rucks" who acts as fantasy Sam Elliot in The Big Lebowski. Bastion was the freshman outing from Supergiant Games whose style you may recognize from their sophomore effort, Transistor. Bastion released Tuesday on PlayStation 4, with versions available on Xbox 360, PC, and I0S as well. Our next game is a big 'old checklist of things that I like packaged together in the weirdest way possible. Tower of Guns is a first person shooter from developer Terrible Posture Games, but when I say first person shooter it's not really enough to describe it. It's more like first person-rogue-like-bullet-hell-shooter. With elements of the one life per-game rogue genre, fast and furious incoming enemy projectiles of "shmups" and Quake II/Serious Sam style first person combat. Terrible Posture Games took the blender approach to first person shooting. The title also features randomized gameplay elements with power-ups and weapons being randomly placed in the environment so every game is a different experience. Tower of Guns releases on PlayStation 4 and PlayStation 3 on Tuesday, with a PC version already available. It's a week of mash ups, as Atlus smashes its popular computer roleplaying game series Etrian Odyssey with Chunsoft's Mystery Dungeon franchises. The result is Etrian Mystery Dungeon, an overhead dungeon crawling role playing game with elements from both series. Select a party and take your intrepid adventurers into a randomly generated dungeon full of monsters and treasure. Etrian Mystery Dungeon features rogue-like elements, with characters penalized for deaths with loss of items and gold. The Mystery Dungeon series achieved minor recognition in the states for their Pokémon installments but not much else, while the Etrian series was a cult DS hit from the last decade. Etrian Mystery Dungeon is available exclusively for the Nintendo 2/3DS on Tuesday.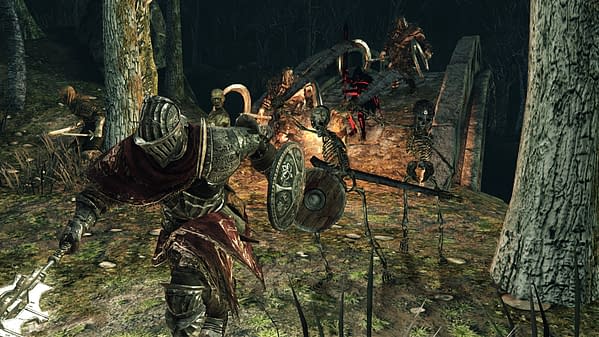 It wouldn't be a week of new releases without another remastered game from last generation, and this week Bandai Namco called dibs with their re-release of Dark Souls II. Formally entitled Dark Souls II: Scholar of The First Sin, the third person masochistic action game isn't for the week of heart. Players create a character, choose a class and get thrown into an unforgiving grinder of a world in search for a cure to a curse. Scholar of The First Sin includes the three packs of downloadable content released for the title with a fresh HD update for new generation consoles. Namco Bandai did apparently tweak some aspects of the game to make it slightly friendlier including a smoother user interface and additional non-playable characters with tips and story beats. Last generation consoles will be getting a version as well, but don't expect it to look as nice. Dark Souls II: Scholar of The First Sin released last Friday on PlayStation 3, PlayStation 4, Xbox One, Xbox 360 and PC. Namco Bandai wasn't the only company with a re-release in mind this week, Nintendo's getting in on the action too with Xenoblade Chronicles 3D. If the name sounds familiar, Xenoblade Chronicles made headlines last generation as a Wii exclusive role playing game that Nintendo translated into English, but had no intention of bringing it to the United States, content to let it be an EU exclusive. After some shouting and gnashing of teeth, Nintendo relented and released the 3rd person action role playing game stateside. The story is some incomprehensible nonsense from Monolith Software, the same people who brought you the Xenosaga series. The game hasn't received much in the way of upgrades, but does have Amiibo support if you can find the correct figures. If you listen to nothing else I tell you, make sure you only purchase this for a *NEW* Nintendo 3DS system! This will only work on a New Nintendo 3DS. I'm being a little down on it, but I've heard it's pretty good. Xenoblade Chronicles 3D releases exclusively for the New Nintendo 3DS on Friday.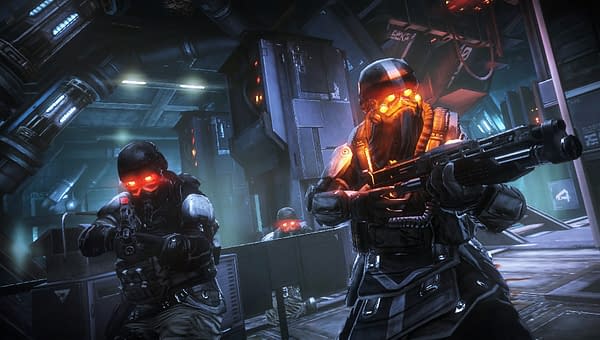 Most of the PlayStation Plus titles for the month hadn't been announced at the time of my last installment of Sweet Release! so let's play catch up! PlayStation 4 users get a great haul this month, with the aforementioned Tower of Guns, Alaskan puzzle game, Never Alone, platform teleporter Aaru's Awakening, and the retro LSD inspired Woah Dave! With the exception of Never Alone, the three other titles are cross buy with the PlayStation 3. The last generation console also gets the 1st person action stealth game, Dishonored. PlayStation Vita users get Sony's handheld first person shooter, Killzone Mercenary, and cartoon puzzler Monster Bag.
That's all for this week, but check out my other regular column, Typing on The Dead. It's a recap and dissection of the latest issue of The Walking Dead, that's getting updates almost every other week! You can also check out cool stuff from my fellow Jersey native Christine Marie, like Geek Shopping.
Jared Cornelius is a guy from the Jersey coast who really wants to pick up and go somewhere tropical. Recommend places to go on Twitter @John_Laryngitis.
Enjoyed this article? Share it!