Posted in: Movies, Warner Bros, Wonder Woman | Tagged: movies, spoilers, Warner Bros, wonder woman, Wonder Woman 1984
---
The 5 Biggest Spoilers from the Wonder Woman 1984 Junior Novelization
Warner Bros. has made a whoopsie, but we aren't really that surprised considering the current timeline. Wonder Woman 1984 was supposed to come out in June of this year, but the ongoing COVID-19 pandemic has delayed the movie twice from August to now October, and we still don't know for sure that it's going to come out. We've seen merchandise from movies still make it out on shelves, but there haven't been any significant spoilers leaked. Well, two slipped through the cracks as the Wonder Woman 1984 junior novelization and the Wonder Woman 1984: Meet Wonder Woman (I Can Read Level 3) are both available for purchase, and they both contain varying degrees of spoilers for a movie we might not see for a while. The junior novelization appears to end right before what will likely be the third act of the film, so these are spoilers for the first and second acts. These are said spoilers, but we must begin with a caveat.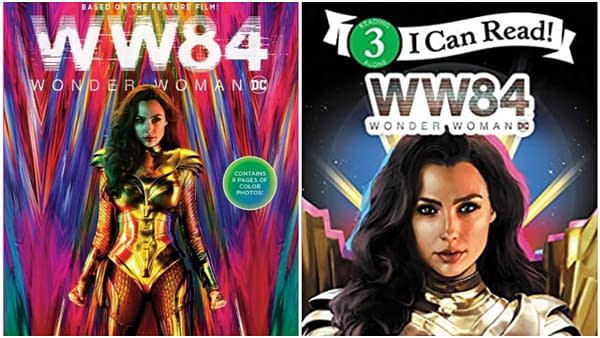 Novelizations of movies are tricky, and they usually fall into the "canon until they aren't" camp. A pretty prominent example would be the novelization of Star Wars: The Force Awakens ended with Poe and Rey meeting before she went on her journey to find Luke. We then found out in The Last Jedi that they hadn't met, hence canon until they aren't. Also, novelizations tend to be based on different versions of scripts, and what was in those scripts is not always what ends up in the movie. So this information might not be accurate to the whole film. We're going broad strokes here, which are probably going to be at least partially correct. Finally, this writer has no problem posting spoilers [obviously] with lots of notice and plenty of opportunity for people who want to remain unspoiled to opt-out. You read a clearly labeled spoiler article that is on you, and that is your decision. What we do have a problem with is people taking spoilers and posting them on Twitter, Facebook, youtube comments, just to be a dick and spoil other people. So, don't do that. The world is on fire enough as it is; we don't need to add more to it. So if you decide to proceed onward, please keep said spoilers to yourself. Basically, don't be a dick.
THE FOLLOWING ARTICLE CONTAINS SOME PRETTY MAJOR SPOILERS FOR WONDER WOMAN 1984, WHICH WON'T BE OUT UNTIL OCTOBER AT BEST. PROCEED WITH CAUTION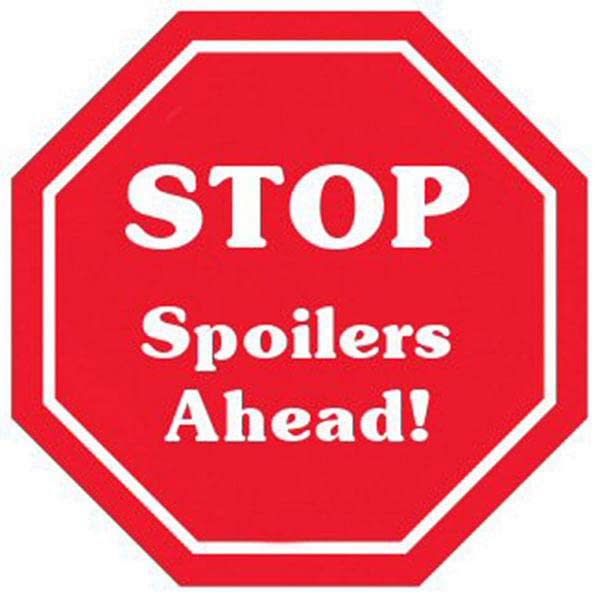 .
.
.
.
.
.
.
.
.
.
.
.
.
.
.
.
.
.
.
.
.
.
.
.
.
.
A Final Retcon Of That Batman v Superman Line
In Batman v Superman the movie ended with Diana saying that she walked away from humanity 100 years ago, but once the Wonder Woman movie came out, people didn't think that seemed to gel. The writers of Justice League seemed to agree, and she mentioned that she "always came when she was called" and Wonder Woman 1984 appears to retcon that further. According to the junior novelization, Diana has been doing a lot of good in the world. However, she has walked away in a metaphorical sense. The trauma of seeing Steve die and then watching her friends eventually succumb to old age has left her distant from humanity even as she continually saves them. Diana has no friends and no real connection to the world, aside from her duty to save it at the beginning.
Our McGuffin Is a Dreamstone
People have been wondering how Steve Trevor is back, and the thing that brings him back is called the Dreamstone. Doctor Destiny used the Dreamstone in the 60s, and the stone was used in the infamous Sandman series. In the movie, it is a harmless-looking citrine ring that is brought to the Smithsonian, where Diana and Barbara work as part of a seized collection of artifacts that were being smuggled into the United States. This version of the Dreamstone appears to have the ability to grant one wish, and Diana says it is an object endued with the power of the gods like her lasso. They wonder which god it is connected to until they realize that wherever the Dreamstone goes, destruction follows, and this object's maker was the God of Lies. Diana's wish was to bring Steve back hence connecting his fate directly to the Dreamstone.
Wonder Woman 1984's Barbara Minerva Is Interesting
One of the most infamous Wonder Woman villains, Barbara Minerva, aka Cheetah has been around for decades, and this version has very little to do with her comic book counterpart. Barbara is another scientist working at the Smithsonian that Diana befriends for what feels like all of five minutes. Barbara pretty much develops an instant girl crush on Diana [who wouldn't] and laments how much better Diana is at fitting in than she is. This is something I feel will be handled much better in the movie because the junior novelization is for younger readers. Still, the inner monologue for Barbara makes her come across as her immature. There is a significant emphasis on popularity and Barbara not fitting at any point in her life. She, at one point, turns against her friend of five minutes for Maxwell Lord, a man she has known and has been nice to her for all of two. Her powers are obtained by a slip of the tongue more than anything else; she wishes she was like Diana hence gaining at least some of Diana's powers. Her descent into madness felt very Batman Returns Catwoman-esque and a little clunky. Kristen Wiig is a fantastic actress, though, and this sort of thing could be easily turned around by an excellent and, more importantly, sympathetic performance from her.
Maxwell Lord's Plan Is Complicated As Hell
Oh boy, this is by far the clunkiest part of the entire novelization. This might start to make sense once we know the third act, but with the information given in the junior novelization, this plan is complicated as all hell. So, Maxwell Lord, another one of those businessman villains that became very popular in the 80s because, you know, it was the 80s. This version of Maxwell seems to be leaning more toward the Machiavellian greedy supervillain. We are first introduced to him via a commercial that Diana sees on a TV, and her inner monologue declares that she can tell he's a scam artist. His business is an oil company that the average civilian can have a stake in. We find out later that it's all a front, the oil wells are empty, and it's all a sham. Maxwell is trying to find the Dreamstone to make his business work and eventually uses Babara's low self-esteem to trick her into giving it to him.
From there, things get complicated as Maxwell has to find new people to make new wishes because he can only make one. So, he wishes for power, which makes his oil wells pile up. He bullies his former investor into granting another wish and another and another that eventually leads him to Egypt. He ultimately tricks an oil baron into giving up his oil fields for his wish of segregating Egypt with a giant wall so he can own his ancestral lands. As the novel says: "The wall appeared to trace an ancient border . . . the border of a land that no longer existed. The land that had belonged to the ancestors of Emir Saif Bin Abydos." All right, then Russia gets involved [because 80s], and they recognize the new land while the United States acknowledges traditional Egypt, and now everyone is waving their nukes around. There is now a run on gas because Maxwell owns more than half of the oil in the world, causing mass riots worldwide. Maxwell eventually returns to the United States, wishes/cons his way into the Oval Office, where he gets the President to wish for more nukes, which Russia sees, and is now going to retaliate. Hence our world-ending scenario.
If that all sounds a little convoluted, well, it is. Again, this might be something that plays out better on film, but in writing, it seems like a lot. This plot also explains the various pieces of fight scenes that we've seen play out across the trailers, for example; why Diana is fighting in the White House is because she is trying to stop Maxwell from essentially dooming the entire world.
Wonder Woman 1984's Return to Themyscira
There is a decent chance that the movie won't follow the structure of the book, but it starts with the various scenes we've seen of Diana on Themyscira taking part in The Amazon Games. We get to see more of Antiope, and we see a young Diana try and do her best to win the games but ends up losing. Her mother tells her that she must consider the Golden Warrior Asteria "who did not become a legend through acts of haste. She got there through acts of bravery, and the bravest thing in the world is to face the truth." That very much seems like the theme of the movie, facing the truth of things, such as Diana having to come to terms with possibly losing Steve again to destroy the Dreamstone. The armor is mentioned again in the story, but by the end of the novelization, she has not put it on.
Those are the five biggest spoilers from the novelization. Even after reading these spoilers, I'm still very interested to see how this movie turns out and if the things I didn't like here will end up working on screen. They probably will, to be honest, since Patty Jenkins is a fantastic director, and everyone involved seems very keen to make this a great movie. Final reminder to not be a dick about spoilers to people who want to remain spoiler-free. Seriously, don't be a dick.
Wonder Woman 1984, directed by Patty Jenkins, stars Gal Gadot, Chris Pine, Kristen Wiig, Pedro Pascal, Connie Nielsen, and Gabriella Wilde. It will be released on October 2nd, 2020.
---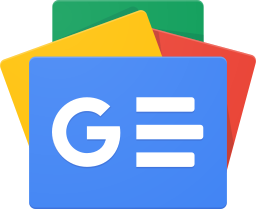 Stay up-to-date and support the site by following Bleeding Cool on Google News today!