Benedict Cumberbatch Film The Courier Set To Release August 28th
Benedict Cumberbatch film The Courier has set a release date of August 28th in theaters. "Theaters have indicated gradual openings this summer, with health and safety guiding the way. If everything proceeds favorably, we feel the true spy thriller THE COURIER, with a must-see performance by Benedict Cumberbatch, is just the type of film that will have audiences excited to return to their local cinemas in late August," said Roadside co-presidents Howard Cohen and Eric d'Arbeloff. Well, there you have it. The film actually debuted at Sundance 2020 titled Ironbark. Not sure what happened to warrant a name change. Check out a couple of photos from the film and the synopsis below.
The Courier Synopsis
"THE COURIER is the true story of an unassuming British businessman Greville Wynne (Cumberbatch)
recruited into one of the greatest international conflicts in history. At the behest of the UK's MI-6 and a CIA operative (Rachel Brosnahan), he forms a covert, dangerous partnership with Soviet officer Oleg Penkovsky (Merab Ninidze) in an effort to provide crucial intelligence needed to prevent a nuclear confrontation and defuse the Cuban Missile Crisis."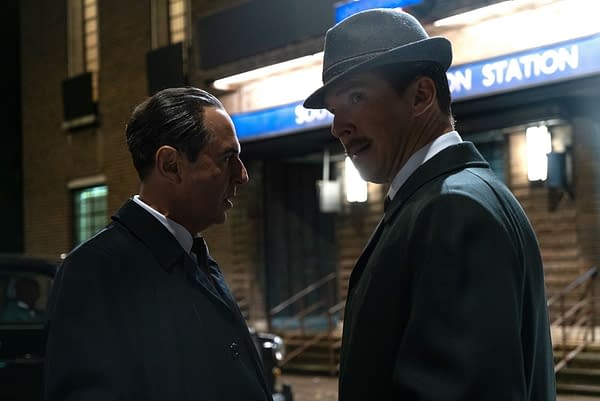 Well, this movie has a wonderful cast, and look at that mustache Benedict Cumberbatch is sporting here. Pretty great stuff for sure. I am also excited to see Rachel Brosnahan outside of The Marvelous Mrs. Maisel and flex her muscles in a more dramatic role. She is supremely talented and is poised for an even bigger breakout. I guess all that remains is seeing if they do indeed release The Courier into theaters. This is the type of film I can see going straight to streaming going forward, so it will be interesting to follow what happens with it.