The 'X-Men X-Perience NYC' Premier For 500 Fans: The Good, The Bad, And (Yup) The Ugly
By Ray Flook and Alejandra Bodden
Following-up on Hannah Means-Shannon's posts (on the "look" of the show and on the Red Carpet experience) and our own photos posted, we were lucky enough to score passes to the May 10th premier of Fox's X-Men: Days of Future Past, as part of the "X-Men X-Perience NYC" being held that afternoon at the Jacob Javits Center.
But there was a catch: only the first five-hundred people in line would get the chance to see the film when they began giving-out wristbands at 4:00pm. So as any pair of self-respecting, self-professed "pop culture geeks" would do, we staked-out our place in line at around 6:00am…and that "place" in line was around 192/193 at 8am…then around 243/244 two hours later…then…(but we're getting ahead of ourselves on THAT one…more in a little bit). Over the course of the next eighteen hours (the event was listed as running from 4:00pm-8:00pm but that didn't include the screening itself, which began around 10:00pm), we did out best to remain observant and objective, and keep our "inner-geek children" on a tight leash (success rate: 63.76%) to give you a personal overview of what it was like that day inside, outside and around the Javits Center. So in honor of (and with deep apologies to) Sergio Leone's Western classic, we proudly present to you the cliched-but-still-pretty-darn-useful theme of "The Good…The Bad…and The Ugly:"
THE GOOD
MCDONALD'S BATHROOMS:
For those of you who don't know, there isn't a lot going on around the Javits Center when it comes restaurants, stores, bars, etc. When you're waiting in line for ten hours, that also means that finding access to a bathroom is tougher than it has any right to be. Thankfully, there was a McDonald's only a few blocks away that had decent bathrooms that met two major criteria: (1) didn't have to purchase anything to use them (at least we don't THINK you had to because there was no one there to say otherwise); and (2) lines were never that bad. Downside? You took your life into your own hands trying to dodge the two million taxicabs all fighting for the drive-thru.
THE FAN HELPING WITH THE CROWD QUESTIONS:
Not only did he come up with better questions than the ones the studio submitted, but also his energy level and pure happiness over being selected were visible and contagious. He would've stayed there until the morning asking questions if they needed him to…he was a real trooper. SWAG! SWAG! SWAG!:
"Swag" is one of those words you hate…and one of the best words in the world at events like these. As people who love nothing more than mementos to remember events such as these, we were pretty psyched to see that we were taking home a commemorative t-shirt. Simple, yet meaningful. The mini-movie posters were a doubled-edged sword: they looked great and cool to get autographed, but a pain to juggle because they bent and ripped easily. We walked away with autographs from Lauren Shuler Donner, Booboo Stewart and Hugh Jackman. And we'd be remiss if we didn't mention pay our respects to the little treats Hostess and Red Bull graced us with: new X-Men-themed Twinkies, in the flavors of "Strawberry Blast" and "Blue Raspberry" (which was good, but with an intense blueberry-on-steroids flavor); and small giveaway cans of Red Bull Silver (lime), Red (cranberry), and Blue (blueberry) flavors. Great move, since it was things like that that kept us alive, standing, sitting, jumping, break-dancing, yodeling and screaming for a helluva' lot of hours…
THE MOVIE:
Pretty damn amazing for what it set-out to do and for what it accomplished…we had high expectations for this film and it met them and then some For a great, spoiler-free review, you should definitely check-out Brendon Connelly's post. There's just so much going on in this film that you don't want to know too much going into it, but here's one not-so-daring-prediction: Evan Peters/Quicksilver will be the Mark Ruffalo/Hulk of this movie, and people will start talking solo film.
COSPLAYERS:
We're big fans of cosplayers at conventions and events like these; yet this time it was extra special seeing such diversity in both the characters and the people dressed as them (Alejandra: "It allows me to relate to characters I love despite how different from them I might look.").
WEATHER:
Despite it being a tad bit cold at around 6am and a couple rounds of quick rain, it was a pretty nice day to be waiting in line. Yeah…it was a bit sunny at certain points, but it also helped quickly dry the pavement for us to be able to sit and wait… and wait… and wait…
OVERALL SPIRIT OF THE DAY:
For a crowd that waited for hours upon hours (and in some instances, days) both inside and outside the Javits Center, the spirit and energy levels remained strong throughout. If you were an actor in the movie (or Seth Green trying to "sneak" past all of us going into the premier), you were getting a chant of love and appreciation. Perhaps the best example of this strong spirit coming-through came during the debacle that was the "pre-show trivia giveaway thing" that was "hosted" by Z100's Skeery Jones. Fans were fighting to defend other fans to correct the numerous inaccuracies with the answers that caused people to lose out on some pretty cool autographed items like DVD sets and t-shirts. There were also many instances of fans working together to help someone in their area get the host's attention if that person knew an answer.
STAFF/SECURITY ATTITUDE:
Pleasant, not hard to find and seemed very helpful with any questions/concerns people had before and during the event. You can just imagine the hours they pulled, yet they really never let it show.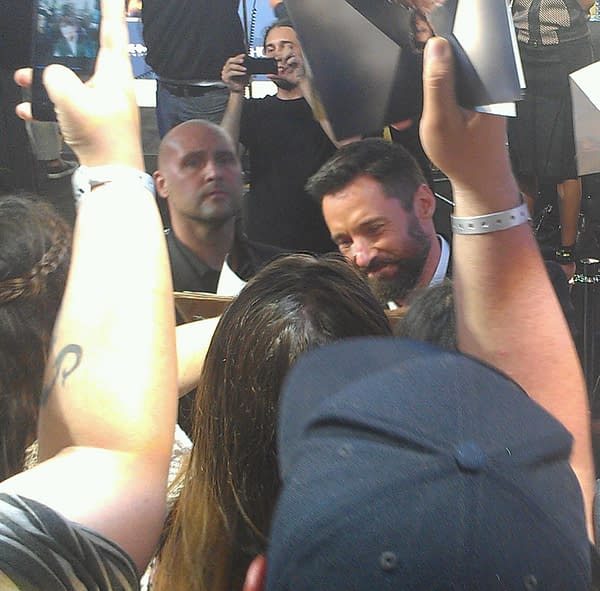 HUGH JACKMAN:
Hugh Jackman is a one-man public relations machine, working the fans and media alike as he promoted the hell out of this film (even bookending the live streaming broadcast in front of the camera). He signed tons of posters, movies, and t-shirts for trivia questions before the screening; and still had time to go through the crowds of fans, taking pictures with them and signing other items (also, props to Jennifer Lawrence, Lauren Shuler Donner and Booboo Stewart for being the only ones apart from Jackman to walk the ENTIRE floor meeting/greeting fans.).
WHAT EVENTS LIKE THESE REPRESENT:
Some people (probably most people) consider the idea of camping out for two days "just to see a movie and some celebrities" pretty crazy. But when you see the first hundred or so people in that line, your view changes. It changes because these people are enjoying themselves by spending time with friends and family members…creating memories that will last well beyond the movie they're waiting to see. Even along the line, people we're getting to know one another and discuss all things "geek," not just X-Men stuff. You could see in everyone's eyes the relief and comfort that comes from being in an environment of "your own" sometimes…to not be judged for your "crazy ideas" but embraced. It makes you feel good…it's that simple.
THE BAD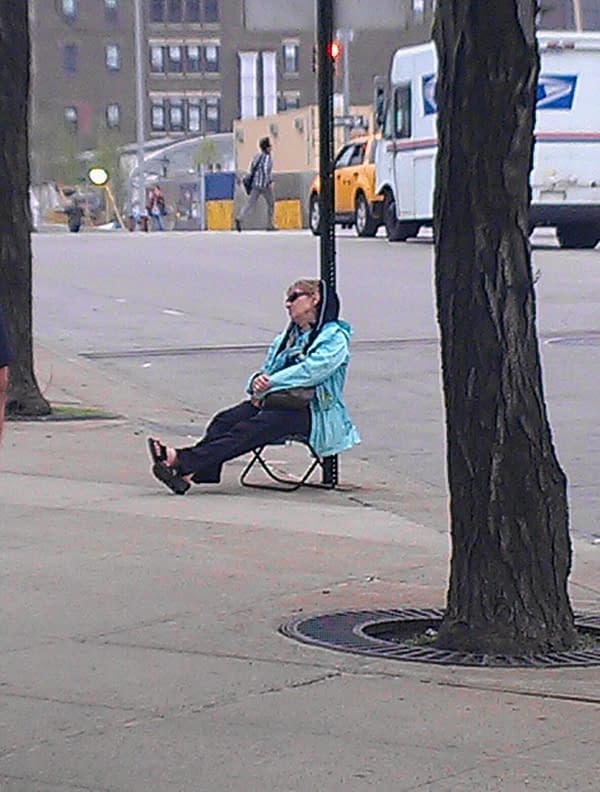 LINE-CUTTING:
If you're in line and you're saving a space for one…two…maybe even three people, we're cool with that…but when you're group of three suddenly turns into a crowd of twenty, you're selfishly telling everyone else in line behind you to kiss your ass. Now we're not here to point fingers at anyone in particular for being guilty of this…but we're glad to see the 2013 New York Comic Con staff got to enjoy their reunion in line. At the first count (around 8am), we were within the 192 range…and then just two hours later we were within the 245 range??? It was getting so bad that the staff members that were doing the line counts wouldn't give-out the count anymore. Not good…not acceptable.
Z100's SKEERY JONES AS RED CARPET HOST:
We guess he gets points for trying…but this was a mess that was only saved by the fans taking over part of the host/emcee responsibilities. Jones seemed confused and often a little winded while working the length of the fan pit area. He spent too much time on some questions and not enough time on other questions…and that was when the questions were actually correct. The studio supplied the questions, which ranged from the insanely difficult ("What was the name of the pet hamster owned by the neighbor of the inker of X-MEN (Vol. 5)?") to confusing when there was no way to tell if the answers he was looking for were from the movies, the comics or the cartoons. At one point, TWELVE MINUTES was spent trying to find ONE answer. It was so bad that it got to the point where Jones abandoned his own questions and let the fans do the "heavy lifting" by coming-up with questions to ask. The event could've been great because of his performance; instead, it was great despite his performance.
INFORMATION ABOUT/TIMING OF EVENT:
According to the tickets for the "X-Men X-Perience NYC", the event was to run from 4pm-8pm…when it actually ended some time after midnight. A bit off…but it wasn't just that. There seemed to be a lot of "red light/green light" situations throughout the day…times when we got ourselves ready to only have to wait again. For example, at 1pm we were told to get ready to go in "in fifteen minutes," only to have to wait some more. We all know that events do tend to run off-schedule sometimes, but this was a bit much; and if that was the general plan overall, then they need to communicate that information to the masses in more timely manner.
THEATER ORGANIZATION/PLANNING:
After the Red Carpet was done, we were instructed to head over to the AMC Lowes-34th Street quickly because "they were there waiting for us." Unfortunately, no one told the theater that…because there was nothing outside the theater to organize the crowd into an orderly line except for one security officer counting-in groups of ten. Even more time was added because of how slow the process of checking-in cell phones took; and after the movie, it was a free-for-all at the table to get your cell phones back.
Someone could've easily walked-off with someone else's phone. Slow-drip IV's move faster…
JAVITS CENTER ORGANIZATION/PLANNING:
We expect lines…but why would you herd us like cattle into the front of the Exhibit Hall, where there's only one escalator going up and hundreds upon hundreds of people all looking to squeeze-in at the same time so they can be "first" in the name of others getting crushed? We're also pretty sure they could've come-up with some way to have bathroom access available, but that was definitely not happening that day.
THE UGLY
BEING AT THE JAVITS CENTER FOR A NON-NYCC EVENT:
We know this is strictly a selfish entry, but it did feel a little weird being there without an event or panel to live blog or cover. As sado-masochistic as this may sound (LOL), we miss it and now we're really looking forward to covering this year's con (hint-hint, Bleeding Cool!).
OVERALL OUTSIDE LOOK OF THE JAVITS CENTER:
The construction mess is a "necessary evil," and at least serves as a glimpse of the upgrades being done to the center (and how much it will benefit future NYCC's). The garbage is a different matter…WOW! With abandoned sleeping bags, seat cushions with questionable substances on them and partially-burnt toys (?!?!?!), the path leading into the Javits Center ended-up looking like the family from THE TEXAS CHAINSAW MASSACRE was having a yard sale; with crumpled Red Bull cans, McDonald's and Dunkin' Donuts bags, and Arizona Iced Tea bottles rumbling-around like heavy tumbleweeds. It makes us all look bad.
THE "CLONING" OF HUGH JACKMAN:
Either Hugh Jackman has a series of clones who entered the Javits Center the same way but at different times…or quite possibly one of those entrances and our reactions to it didn't end-up being as "live" as people might think. We all know the latter is pretty much the correct answer, but the former does seem much cooler. Who wouldn't watch a movie with a hundred Wolverine clones fighting together or against each other?
CROWD ANGRY AT LEFTOVER E! NEWS BAR DRINKS:
E! News had an interesting little idea for their interview area: have a pitcher of a mixed drink readily available and let the stars serve themselves. Which they absolutely did. After the Red Carpet was wrapping-up, the fan pit started chanting to the E! Crew to let them have the leftover drinks; alas, they would remain parched and sober…with the knife twisted a little more when an E! crewman jokingly mocked the crowd by taking a drink from the pitcher. Funny but cruel…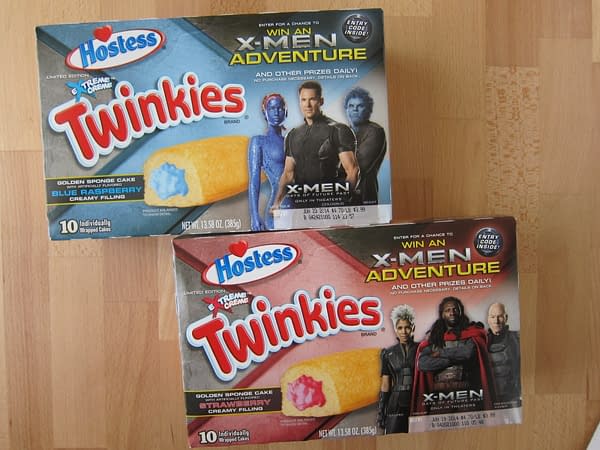 TWINKIES' MUTANT ABILITY TO CHANGE THE COLOR OF…"THINGS":
Not sure what kind of dye they're using in those new Twinkies, but they're sweet and strong…and possess the uncanny ability to change the color of…"things." We'll best leave it at that…but some of you know what we mean. Moving on…
So was it all worth it? Absolutely! "The Good" far out-weighed "The Bad," with "The Weird" being more funny and interesting than negative. You can't go wrong spending a day with people who are as passionate about the things you like as you are. X-Men: Days of Future Past is an amazing film; and even with a few rough spots, this was definitely a kick-off worthy of a film and franchise as large and historic as the X-Men.