Against Our Better Judgment, We Tried the McDonald's Szechuan Sauce
This isn't going to be one of those "this is proof that people don't understand Rick and Morty" posts. This isn't even going to be a rant against McDonald's and their poor planning. This is simply a story about us wanting to see what was so special about this packet of sauce — the infamous Szechuan Sauce.
Now, don't get me wrong, I'm a Rick and Morty fan, not one of the super-obsessed ones who can quote every episode and will test your loyalty to Dan Harmon on Reddit by making you point out every Community reference in the show. But enough of a fan that when the original running gag about Szechuan Sauce debuted in the Season 3 premiere, I admit, I was curious. Enough to where we actually discussed going to the McDonald's in Times Square during NYCC to try it, until we learned there was a line four blocks long and people rioting in New Jersey over it.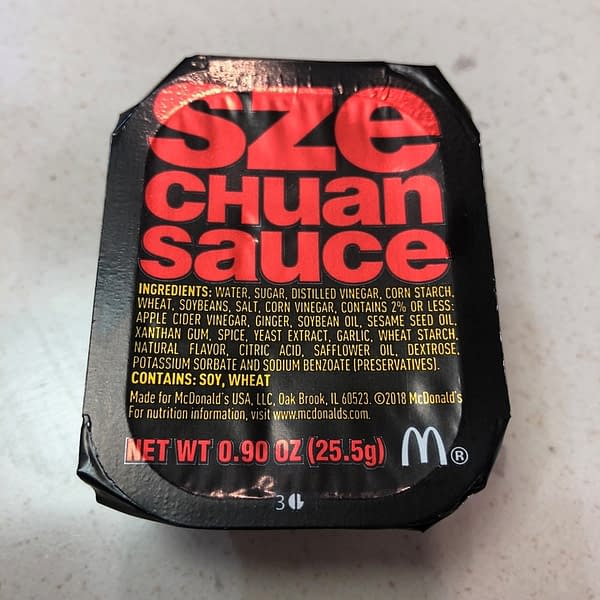 So here we are, the end of the pseudo-fandom journey we've kinda been on, obtaining a couple of the 20 million packets they released on February 26th, to try it out for ourselves. I made my way over to the closest McDonald's with a couple friends to see if this sauce was everything we remembered and then some. We got a couple 10-piece Chicken McNuggets and at least three packets per person. There was no fanfare, there was no anticipation, there was no "this will make us true Rick and Morty fans" moment in our minds. If anything, the collective thought we were sharing was "finally, we get to see what all the hype was about inside Justin Roiland's mind." And the verdict is…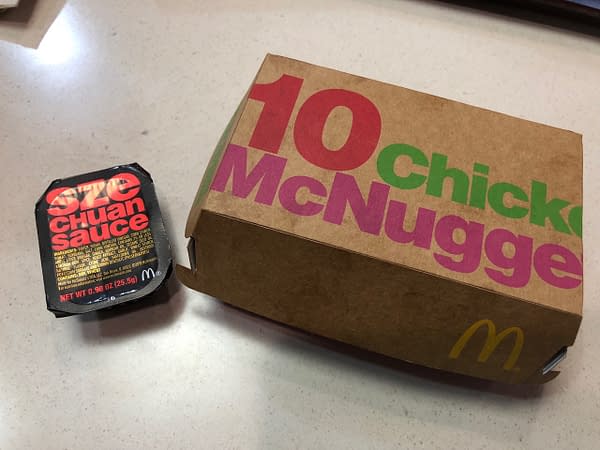 Meh.
I'm actually old enough to have a memory of eating this sauce back when Mulan was out and the whole promotion was going on, and I can remember two clear things. The sauce was darker and had a tangier taste. This is clearly not the original Szechuan Sauce, or if it is, clearly enough time has gone by where whatever they used to make the original doesn't exist or has been changed in some way through nearly two decades of food engineering. This tastes more like Orange Chicken flavoring, which to be fair, doesn't taste that much like orange either, but you get the drift. Is it terrible? No. But it isn't that great, either. It is basically sauce that I would expect to be poured over chicken at a buffet restaurant that has a Chinese food section. Enough for it to taste like it should, but not enough for it to be authentically made.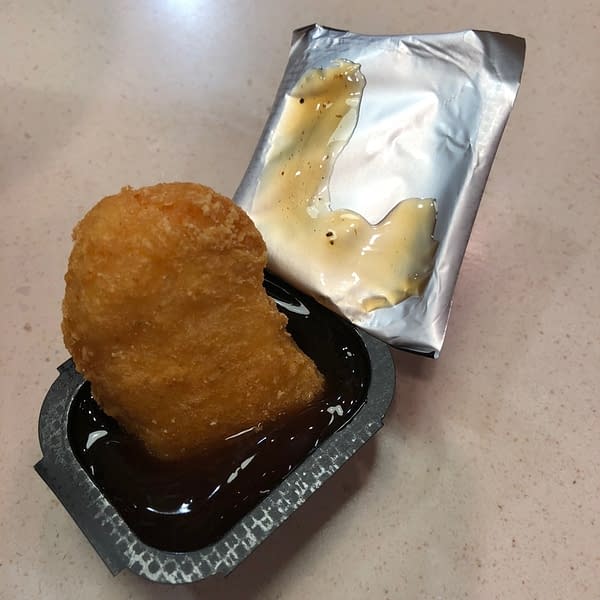 The final verdict is that it's just okay. I wasn't blown away by it, but it also didn't give me food poisoning either. If this is everything Roiland hoped it would be and more, then good on him; he's living the dream. I can't wait to see him use his vast powers for creating memes that bring back old items in Season 4, when he convinces everyone that Jolt Cola should be freely available again beyond Amazon and that Tamagotchi pets were the best idea ever. Meanwhile, I'm taking my last packet of Szechuan Sauce and tossing it in the glove compartment of a Jetta, so my profits can mature and make me enough cash to buy a home in 2038.