Tula Lotay's "The Handmaiden" Poster for Mondo on Sale Tomorrow
Thought Bubble Comic Art Festival, the UK's premiere comic art convention, completed its run in the Harrogate Convention Center in Leeds this weekend. Mondo has a big day of announcements today including the vinyl equivalent of a flat file sale, Rick and Morty toys in both a Mondo exclusive and regular version, and the on-sale announcement of the Thought Bubble exclusive poster for the Park Chan-Wook's movie The Handmaiden.
On the vinyl front, Mondo recently moved and rather than finding the errant pieces of popcorn and discarded dog toys that most of us find when changing venues, they found spare copies of some of their most sought after LPs. They are planning to restock the vinyl at random times between now and Wednesday. Titles mentioned as being likely to show up include Back to the Future, Back to the Future Part II, Home Alone, Josie and the Pussycats, The Big Lebowski, Castlevania: Symphony of the Night, God of War, and First Man. Also on sale this week is their vinyl release of the soundtrack for the Amazon series The Boys.
To celebrate last night's season 4 premiere of Rick and Morty, Mondo has released two different sets of toys. On sale now, the Mondo exclusive comes with some extra heads and other pieces and will run you $120. The regular set is $100.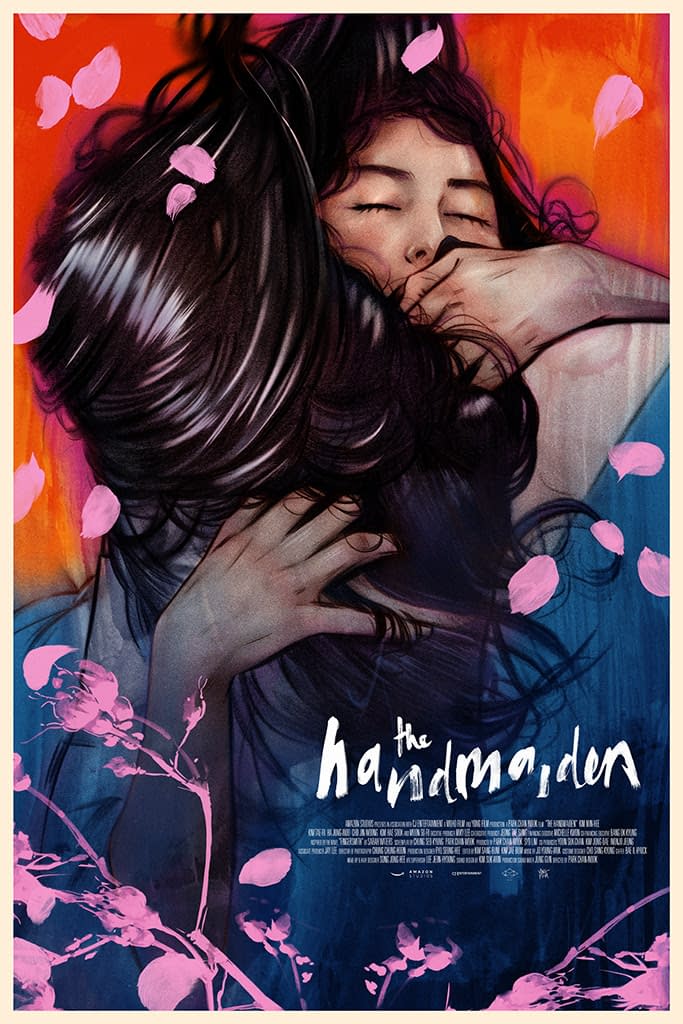 Finally, Mondo has announced how those of us who couldn't make it to Thought Bubble to freeze our way through the convention in person can get our hands on the leftover stock of Tula Lotay's poster for The Handmaiden. The poster will go on sale tomorrow at a random time. It measures 24×36″, is an edition of 175, and will cost $50. In the course of announcing the sale, Mondo mentioned an interesting tidbit for fans of the poster game: the separations for this poster were done by the maestro of color himself, Jason Edmiston.
For the uninitiated, screen printed posters are made by making a separate screen for each color; each screen then has its designated ink pushed through and onto the paper to create the image. Complicated art with a multitude of colors can complicate the process, require many additional screens, and drive up the final price of a poster. It's entirely possible to create art which is too complicated or colorful to screenprint successfully.
Part of the art of the creation of these posters lies in the ability to use the areas where two screens border each other to allow the ink to overlap slightly and mix together to create additional colors without the need for a separate screen. One look at the subtle color shifts in the blue clothing, the pink top layer of leaves and branches, and the many skin tones involved in this art makes it understandable that Edmiston's skills would be helpful on this particular poster.