Universal's Back into "The Hunt", New Trailer, Poster
Looks like Universal Pictures and Blumhouse Productions are throwing their hats back into the race with their politically-charged satire The Hunt. Originally slated for a September 27th, 2019 release, the studios shelved the film amidst controversy surrounding mass shootings in California, Ohio, and Texas.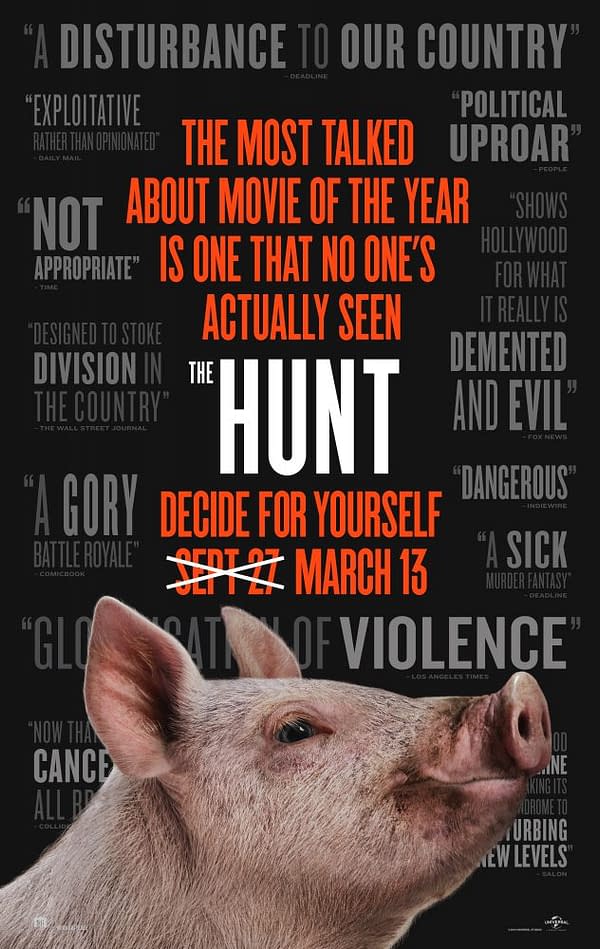 The film surrounds a group of conservatives kidnapped and relocated to an undisclosed remote ranch. "Liberal" parties pay top dollar for the privilege to hunt the live game for sport. When promotion began for the film, much of the media joined the president slamming "liberal Hollywood". President Donald Trump's tweet read, "They create their own violence, and then try to blame others. They are the true Racists, and are very bad for our Country!"
Universal released a new poster that solely focuses on the harsh criticism of the film's nature from outlets. The tag line at the center: "The Most Talked About Movie of the Year is One No One's Actually Seen". At the bottom, it asks the audience to "Decide for Yourself". The following line reveals the new release date of "Mar 13th" (2020) after crossing out "Sept 27th". For one last measure, the studio added a pig at the bottom.
Guess it's better since no one flipped their lid over the Quibi television series The Most Dangerous Game, which is what The Hunt is based on. Directed by Craig Zobel and written by Nick Cuse and Damon Lindelof, the film stars Betty Gilpin, Ethan Suplee, Ike Barinholtz, Emma Roberts, and Hilary Swank. Variety spoke with Lindelof and producer Jason Blum about the film's second chance. You can check out the interview here.
The Hunt comes to theaters March 13th (tentatively).