Yesterday at Blizzcon was the world premiere of the Warcraft movie trailer. Along with the trailer, director Duncan Jones was on hand with stars Toby Kebbell, Dominic Cooper, Ben Foster, Clancy Brown, Paula Patton and Daniel Wu. After the premiere during the opening ceremonies, there was a press conference with this group hosted by the Nerdist himself Chris Hardwick. They were also joined by Chris Metzen, Senior Vice President of Story and Franchise Development for Blizzard Entertainment.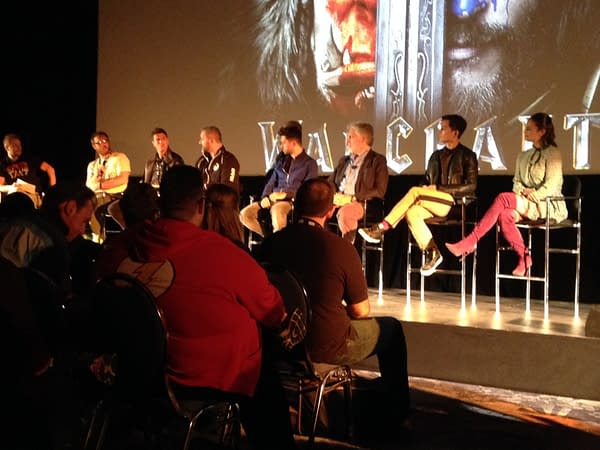 There wasn't anything particularly newsworthy coming out of the hour long session that started with a re-showing of the trailer and bringing out the actors one at a time. But here are some of the highlights.
First Hardwick doesn't know if Glenn is alive or dead so stop asking him.
Jones has been working on the project for 3 years. He was the first one to pitch telling the story from both factions equally instead of the Humans being the heroes only. This got him the job as it was exactly what Blizzard wanted.
Metzen said that doing a film about a much beloved franchise is risky as you don't want to insult the fans.
You don't have to know Warcraft lore or even play World of Warcraft to enjoy the movie. But there will be a lot of Easter eggs for those that do.
Toby Kebbell said that Durotan's story is beautiful and what drew him to the part.
Dominic Cooper had never played the game and the sword he uses in the film is so heavy he had to start training just to lift it.
Ben Foster started giving away too much of the story, so Clancy Brown (with ninja like skills) snuck behind him and pretended to snap Ben's neck to which Ben immediately went limp in his chair.
Paula Patton said that the script read like a novel and that it's a great metaphor for the world we live in now where its not good verses evil and everyone is doing what they believe is for the best.
This lead into a round of Donald Trump jokes and the discovery that Clancy Brown does a nearly spot on Trump impersonation.
Daniel Wu said he also had never played the game but his wife is an avid player and he had watched her play for years. He was told by Jones not to try and do a lot of research into Gul'dan as far too much existed. The would work together to make the character.
Brown then started answering his question as Blackhand in Orcish that started going on a bit long so Ben Foster (with ninja like skills) snuck behind him and snapped Clancy's neck to which Clancy immediately went limp in his chair.
The film is loosely based on Warcraft I, Humans vs Orcs which was novelized in the Last Guardian novel. But, as Metzen explained, its not a direct adaptation as there are tweaks and changes to smooth out the lore and things that they have wanted to change a bit over time. So this is a more elegant version of the story.
And at the very end Jones announced that the recording of the audience roaring 'For the Horde' and 'For the Alliance' that took place at last years Blizzcon would be included in the film. So if you were there last year, get your IMDB page ready…
Upon exiting the conference, Legendary had the following item from the film and some of the upcoming merchandise on display.
Enjoyed this article? Share it!