Why Chris Hemsworth Turned Down 'Star Trek 4'
When it was announced that the upcoming Star Trek 4 (as in 4th in the Kelvin timeline, the reboot series from JJ Abrams post-Star Trek 09), we were excited. Confused also, because SPOILER Hemsworth's Captain George Kirk dies in the beginning of 09. But mostly excited, because the heart and capabilities shown by his Starfleet officer before the title card hits were part of what made that Roddenberry chapter so special.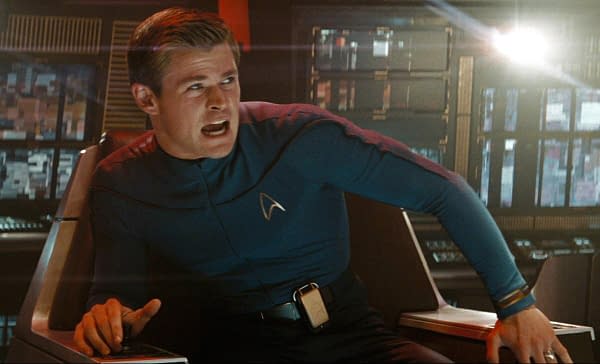 It was reported back in July of 2016 that Hemsworth was coming back for a 4th film, immediately beginning discussions about possible time-travel, or alternate universes coming into play.
Early reports named S.J. Clark as director for Star Trek 4, a historical move for the franchise as she would have been the first woman to helm a Trek film. That of course didn't work out, and she'll instead be heading the pilot of HBO's first Game of Thrones spinoff series (which still doesn't have an official title).
Cut to August of 2018, and the report that Hemsworth as well as Simon Pegg (who plays reboot Engineer Montgomery "Scotty" Scott in the 3 Kelvin timeline films), were OUT of the film. The reason given a the time was contracts, but there were of course all kinds of rumors about "why".
In a recent chat with Variety, Hemsworth admits it was due to the story.
"I didn't feel like we landed on a reason to revisit that yet. I didn't want to be underwhelmed by what I was going to bring to the table."
At present, it appears that Star Trek 4 has been shelved, indefinitely, by Paramount. Even John Cho (who plays Hikaru Sulu in the Kelvin Timeline films) says so.
"It's not happening right now as far as I know, but I just think it will happen. Somebody at some point….we'll all get on the same page," Cho said during a red carpet interview earlier this year. "That's my belief, maybe I'm being optimistic. To me, it's just a really significant part of American pop culture, I don't see how it goes away forever."
We'll of course let you know what we hear about Star Trek 4, and that possible Quinten Tarantino film as well.