Why Trent Reznor Returned to Touring After 'Retiring' 10 Years Ago
From industrial rock icon to Oscar-winning composer, Trent Reznor is very much a force to be reckoned with in the music world. Along with his composing partner Atticus Ross, the pair have been embarking on a world tour with Nine Inch Nails as well as working on several scoring projects while on the road.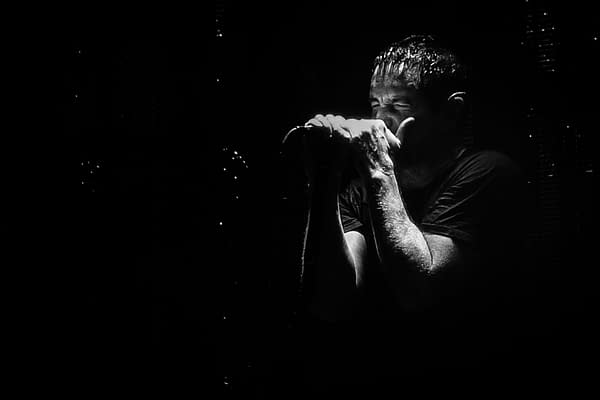 Why did Reznor return to rock shows and touring after "retiring" almost 10 years ago, though? If you are at all familiar with Trent's personality (in interviews, at least), the answer won't really surprise you.
In a recent fairly lengthy interview with both Ross and Reznor, Variety got the answer while posing the question ala Danny Elfman:
Variety: You could have gone as far as a Danny Elfman, who loved scoring so much he effectively said, "Screw it, I'm never doing a rock show again…"

REZNOR: Well, I have said that same thing; I did a farewell tour, 10 years ago or whenever it was, and then ate my words. Because something about being able to step away from it gave me a fresh perspective I was lacking when it was the only thing. With this tour we're on right now, aside from being exhausted right this minute, it has been incredibly rewarding and fulfilling.
They even asked about the ongoing collaboration between Ross and Reznor, something that Trent hasn't exactly been known for. Oh don't get us wrong, he's had some fairly lengthy times of working with other musicians (David Bowie, anyone?), but the two seem to work extremely well together, and compliment each other's styles.
Variety: It's been surprising to see you have this ongoing collaboration with Atticus, because people thought of you as an auteurist, bordering on one-man band, before then. Has collaborating with him led you toward being more open to collaborating with directors who are perfect strangers, after so many years of having things completely your own way?

REZNOR: That's a good question, as I'm kind of really thinking about it for the first time, which is good right now. I think back to the beginning of writing songs and feeling super-lonely about it, wishing I could find a band where it would be like U2 where it's friends that could go out on this crusade to try to change the world. Living in Cleveland at the time, I couldn't find the right people that felt the same way I did, so it trained me to just have the courage to do it yourself and put yourself out there. Plus I had a terrible experience with the first record label that hated what it was — and were wrong about it! — and that made me even more say, "I'm going to do this myself. I don't need your help or even your opinion." But a significant point in my life was getting sober, and the act of surrendering to get clean taught me a world of things about how maybe my way isn't necessarily the best way, certainly in terms of my health and my behavior. I think the lessons that one learns from that carried over. And I met Atticus during that process. I believe I was more open than I had been in the past, and I started to realize a lot of what he was bringing to the table is much better than I could have done on my own. I guess that's what collaboration is.
At present, they're working on the score for Damon Lindeloff's HBO Watchmen series, which is due out sometime in 2019.
The current NIN tour is on it's North American leg, and you can check for local dates on the band's official website here.