Why We Still Need a Legitimate "Charlie's Angels 3"
The recent release of Charlie's Angels hasn't exactly become a box office success, and though it's an enjoyable take on the title, it doesn't exactly live up to the magic of the films from 2000 and 2003. Despite being a lighthearted reboot/semi-continuation of the franchise's continuity, there's still a desire for a follow up to the McG films to deliver a proper trilogy.
The one thing that many who appreciate the franchise can agree on (or at least illicit more optimism) would be the thought of a film that reunited stars Drew Barrymore, Cameron Diaz, and Lucy Liu. So why do we hold out hope for the thought of a Charlie's Angels reunion?
The chemistry is untouchable
There no doubt it's difficult to put together three characters who have a believable tightknit relationship and who can kick major ass. The first Charlie's Angels film in 2000 brought the three stars together in an unforgettable, fresh spin on the 70's television series of the same name.
It was slightly edgier, the humor was very direct, and each character brought something major to the atmosphere the film created. With the sequel Charlie's Angels: Full Throttle, there was an opportunity to bring them back together and proved that you can in-fact deliver two solid entries that stay true to the core values — but still find ways to showcase different moments of growth or struggle as their lives progress.
The core three felt like real, genuine friends (which has been proven to be true) and with that comes an ability to make a film so much more enjoyable. Any chance to bring them back to work with the Townsend agency would mean getting another peek at this phenomenal cast together once more and the idea itself is a sliver of hope for something that feels like a dream film.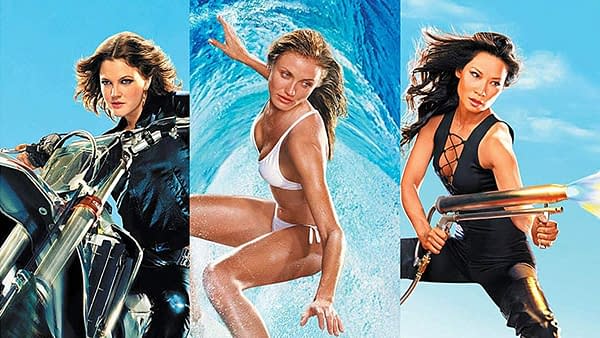 A new phase nearly two decades later
While the first two films were only a few years apart, it's now been almost 17 years since Charlie's Angels: Full Throttle. The new film was meant to bring this universe to a new generation, giving us several cameos of new angels — with one being original angel Kelly Garrett.
In an interview with the LA Times, Banks explained that she did reach out to the three stars representatives and stated, "Just giving them a cameo, in the end, didn't seem like enough for them. We didn't have a lot of time to do anything more elaborate, but I hope if we ever got to make another one we could build them into it. "
That sentiment suggests that the trio from the McG films were actually interested in reprising their roles for something with more substance, which is reason enough to make this film happen. Banks obviously does add that she would enjoy bringing them into the fold if continued, but at this point, it seems unlikely so why not move forward with a third film to reunite them instead of being used as quick references.
Fight sequences are better than guns
The new Charlie's Angels aimed to change certain perceived aspects of the franchise, but one change from the previous films was a larger emphasis on guns. One of the McG film's best assets was the long fight sequences and choreographed battles that strayed from being reliant on weapons.
In moments it was Matrix-esque with impossible instances, but it was part of the fun of the film and the 2000's goofiness that both action films thrived in. The actors trained for months to incorporate stunts in the films, and that dedication and willingness to partake in some hand to hand combat was missed in the new adaptation.
That doesn't mean that you can't watch the new film and enjoy it for its differences or new vision, but Barrymore, Diaz, and Liu onscreen together was lightning in a bottle and if we would be lying if we said there wasn't a desire for more of the 2000's angels.