'Wine Country': Amy Poehler & Co. on Relationships, Aging and Lots of Booze [TRAILER]
A legit "Who's Who" of comedic powerhouses and honored Saturday Night Live alum highlight Wine Country, Netflix's slice-of-life tale about coming to grips with getting older… with some partying, hijinks galore, and lots and lots of alcohol. Don't believe us? How about this line-up of talent: Amy Poehler, Rachel Dratch, Maya Rudolph, Ana Gasteyer, Paula Pell, Emily Spivey, and Tina Fey.
Told 'ya…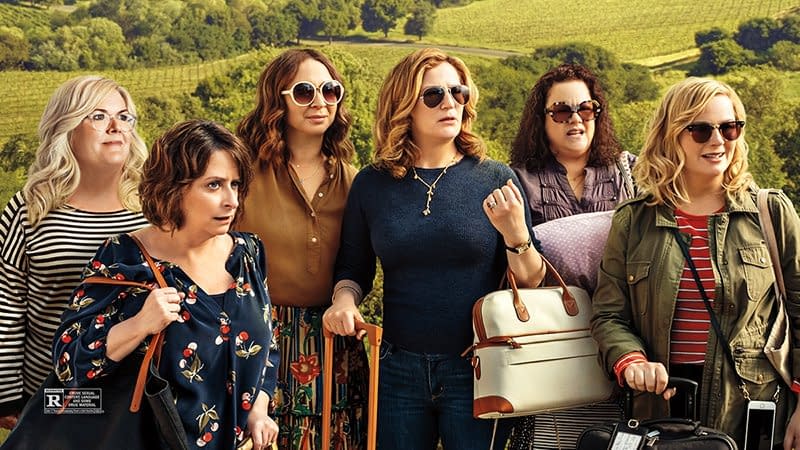 Directed by Poehler, the story follows Abby (Poehler) as she gathers her best friends for a scenic, wine-fueled Napa Valley roadtrip to celebrate/come to terms with (depending on your perspective) Rebecca's (Dratch) upcoming 50th birthday. Joining Abby and Rebecca on their "great grape getaway" are raging workaholic Catherine (Gasteyer), post-op recovering Val (Pell), homebody (but clearly looking for more) Jenny (Spivey), and weary mom Naomi (Rudolph).
And yes, your're correct: that is Jason Schwartzman and Cherry Jones co-starring in the film, which is set to debut on the streaming service on Friday, May 10, 2019. While the film comes across more as a group of real-life friends who took a roadtrip and decided to document it then as an actual fictional work, Poehler and the rest of the cast's organic humor shines through. Combining pratfalls and slapstick with some very honest exchanges, the film look promising – if nothing else, it should be funnier than other SNL reunions… like those Grown Ups films.