Excellent news, fellow Snyderbronies (the colloquial term for hardcore fans of director Zack Snyder). In what may be the biggest confirmation ever that Warner Bros. is planning to release the Snyder Cut of Justice League, a version of the film that contains Zack Snyder's Vision in its pure an unadulterated form, his holiness himself has "liked" a tweet applauding alleged fake feminist Joss Whedon's departure from the DCEU. In addition, Snyder's friend and DC photographer Clay Enos liked the same post, and may even have posted a music video with hidden meaning trashing the perpetrator of Warner Bros.' assassination plot against Snyder's DCEU trilogy.
Batman-news-themed Batman news site Batman-News.com has the skinny on this delectable drama, with screencaps captured of the activity on Hollywood insider social media app Vero. A picture, they say, is worth a thousand words, which means our bosses should pay us double the going rate for this clickbait article. Check out this screencap from Batman-News showing evidence of Snyder and Enos "liking" the post.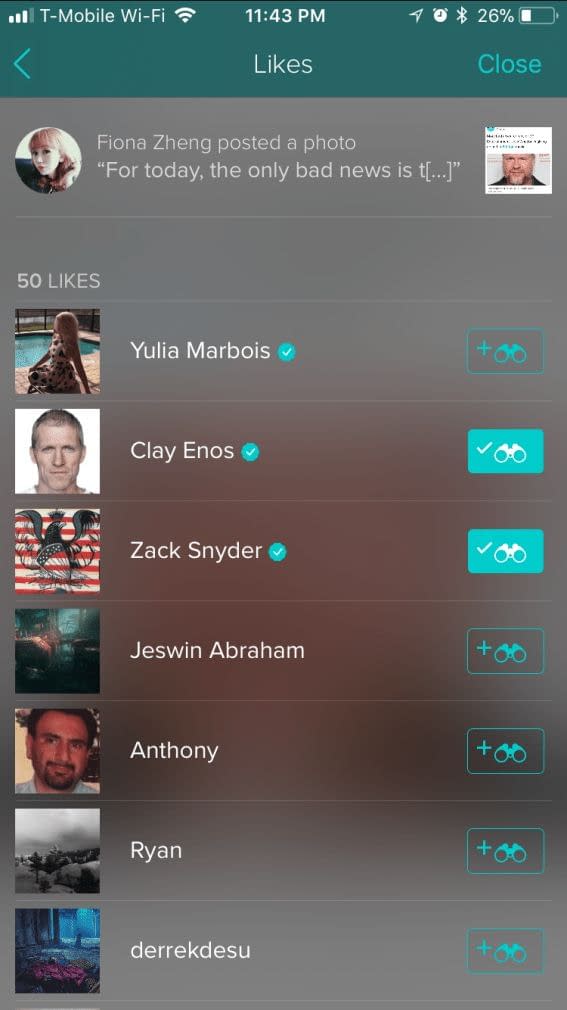 The post was a response to an article from bird-themed pop culture website Vulture, whose headline read, "More bad news for fans of DC Entertainment: Joss Whedon is giving up on his Batgirl movie." In response, Vero user Fiona Zheng wrote, "For today, the only bad news is these media/press still thing Whedon out was bad to DCEU! #TheyReallyShouldRiseTheBarToBeMedia."
And here's the incriminating tweet from Enos, showing a song whose title could very well be directed at Whedon and his departure from the DCEU:
Song from @AppleMusic. Posted using @VeroTrueSocial. pic.twitter.com/u2lUVchYaG

— Clay Enos (@ClayEnos) February 23, 2018
What does this mean for the prospects of Warner Bros. finally releasing the Snyder Cut of Justice League? Obviously, this only strengthens our theory, explored in-depth earlier today, that Whedon's ouster means Warner Bros. is finally coming around to the realization that releasing the Snyder Cut and restoring Zack Snyder's Vision to its rightful place of glory is the only way to save the DCEU.
Zack Snyder and Clay Enos know this. Snyderbronies dozens strong around the world know this. DC-loving Long Beach mayor Robert Garcia knows this! What is taking Warner Bros. so long?!


Enjoyed this article? Share it!