'Handmaids Tale' Author Margaret Atwood Talks Star Wars and Terrorists
Margaret Atwood as earned the right to some strong opinions in her rather successful career as an author. Perhaps you're familiar with one of her works in particular, "The Handmaid's Tale", which Hulu adapted into an award-winning tv drama series.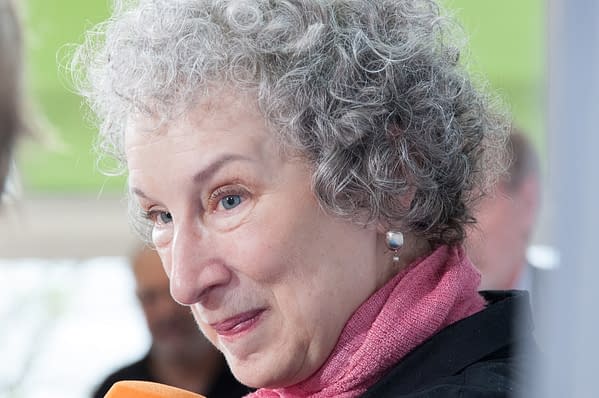 In a recent interview Variety did with the 78 year old icon ahead of their Power of Women luncheon on April 13th Atwood touched on a number of subjects including her involvement with the Hulu series (spoiler- she's not, really), abandoned projects, and how Star Wars influenced terrorists.
Yes, really.
Here's an excerpt from the interview, pertaining to the Star Wars-terror tie in:
Variety: You attended one of the women's marches last year. What do you make of this latest wave of activism?

Atwood: Typically, waves are waves. They hit the shore and then they recede and then they hit the shore again. How many backlashes have we been through? We used to have a race going on, to see which would win, between "1984" and "Brave New World." It looked as if "Brave New World" had won. That turned out not to be true. Just to give you a very creepy feeling, there was an opera of "The Handmaid's Tale" that premiered in Denmark in 2000. It started with a film reel going across the top of the stage and showing various things blowing up. And one of the things that blew up was the Twin Towers. But it hadn't blown up yet. They did the opera again, and they had to take it out, because it was no longer in the future. Does that give you a creepy feeling?

Variety: Yes, it does.

Atwood: They didn't get that idea from my opera, don't worry. They got the idea from "Star Wars."

Variety: Do you really believe that?

Atwood: Remember the first one? Two guys fly a plane in the middle of something and blow that up? The only difference is, in "Star Wars," they get away. Right after 9/11, they hired a bunch of Hollywood screenwriters to tell them how the story might go next. Sci-fi writers are very good at this stuff, anticipating future events. They don't all come true, but there are interesting "what if" scenarios.
Needless to say, there is a lot more to the interview than just this comment, and it's an interesting take from such a noteworthy author. You can read the rest of the piece here.