RWBY is Getting Its Own YA Book Series from Scholastic
At RTX 2018, Rooster Teeth announced they would be partnering with Scholastic to release a Young Adult book series based on RWBY. The series is called After The Fall and will be written by some experienced and award-winning author E.C. Myers (Fair Coin, The Silence of Six), along with consulting writing from RWBY head writers Kerry Shawcross and Miles Luna. The series will debut sometime in 2019. Here's some extra info and quotes on the series from Rooster Teeth.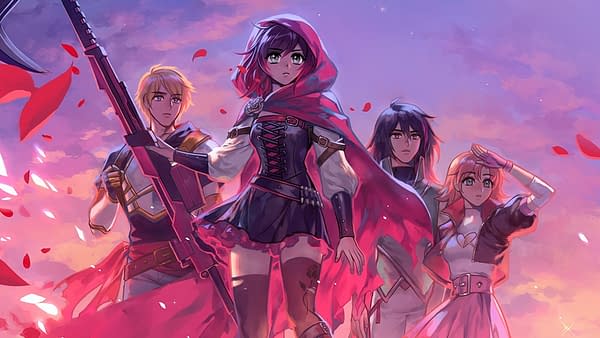 After Beacon Academy fell, Coco, Fox, Velvet, and Yatsuhashi made a vow: No one else is getting left behind. It's been more than a year since Team CFVY saw their school destroyed by the Creatures of Grimm, their friends felled in battle or scattered across the world of Remnant. Since then, they've been settling into life at Shade Academy in Vacuo, fighting hard to finish their training so they can reunite with their friends and save their world.

When a distress message comes into Shade, asking for huntsmen and huntresses to defend refugees from a never-ending stream of Grimm, Team CFVY answers the call without hesitation. But in the heat of the desert, they're forced to relive their former battles, both from the Fall of Beacon and from everything that came before.

"When Scholastic approached us about doing a series of novels, we knew we wanted to explore some untold stories in the RWBY universe," said Shawcross. "We're excited to share a new adventure with Team CFVY in this first book and we can't wait for people to be able to read it."