Daily Show's Michelle Wolf to Host White House Correspondents Dinner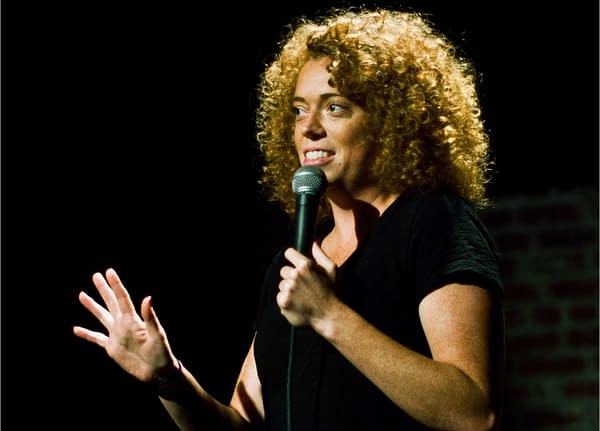 Might be a good idea for White House Press Secretary Sarah Huckabee Sanders to find some kind of excuse for her boss to be busy on April 28th — maybe "has to wash his hair" or "has to pick up a friend at the airport" — as The Daily Show's Michelle Wolf has been tapped by the White House Correspondents Association (WHCA) to host this year's dinner. President Donald Trump has not confirmed his appearance at the event; though with Wolf serving as one of Trump's most vocal and scathing critics, his attendance may be in doubt.
"I'm delighted to announce 'Nice Lady' Michelle Wolf as our featured entertainer this year," Margaret Talev, president of the WHCA, said. "Our dinner honors the First Amendment and strong, independent journalism. Her embrace of these values and her truth-to-power style make her a great friend to the WHCA. Her Pennsylvania roots, stints on Wall Street and in science and self-made, feminist edge make her the right voice now."

– Margaret Talev, President, WHCA
To say that Wolf sharpens her comedic knives against Trump on a nightly basis through The Daily Show might be one of the biggest understatements I'll write today: in the following clip, Wolf looks at the 2017 Miss America pageant and compares the direct, concise answers of the contestants to Trump's "questionable" responses:
The announcement comes at a time when Wolf is on a professional hot streak, recently premiering her stand-up special Michelle Wolf: Nice Lady and securing her own talk show for streaming service Netflix. The WHCA dinner (affectionately known as "nerd prom") will give her a larger level of public exposure; among both the Washington D.C. media and politicos, as well as political junkies like myself who will be watching from home.
Wolf is only the fifth woman to ever host the event, joining the ranks of Cecily Strong, Wanda Sykes, Elayne Boosler and Paula Poundstone. Hasan Minaj served as last year's host, which Trump did not attend.