Seven Seconds: Regina King Wants Answers in Netflix Series Clip
With the upcoming thriller series set to debut later this month, Netflix has released the first preview clip for Seven Seconds. From creator and executive producer Veena Sud (The Killing), series star Regina King's Latrice Butler is a mother looking for answers in the wake of a tragic accident involving her son. After spotting a stranger in her son's hospital room, Latrice begins to suspect that there's more to her child's death than she's being told; and after speaking with her husband Isaiah (Russell Hornsby) and brother Seth (Zackary Momoh), Latrice begins to question who around her can truly be trusted:
In an instant, life is forever changed for Brenton Butler and his family. After a white cop accidentally hits and critically injures a black teenager, a northeastern city explodes with racial tensions, an attempted cover up and its aftermath, and the trial of the century.

Two-time Emmy winner Regina King (American Crime) stars as Latrice Butler, alongside breakout British actress Clare-Hope Ashitey (Doctor Foster), Russell Hornsby (Fences), Beau Knapp (Sand Castle), Michael Mosley (Ozark), David Lyons (Safe Haven), Raul Castillo (Special Correspondents), Zackary Momoh (A United Kingdom), Nadia Alexander (Blame), and Coley Speaks (Circle).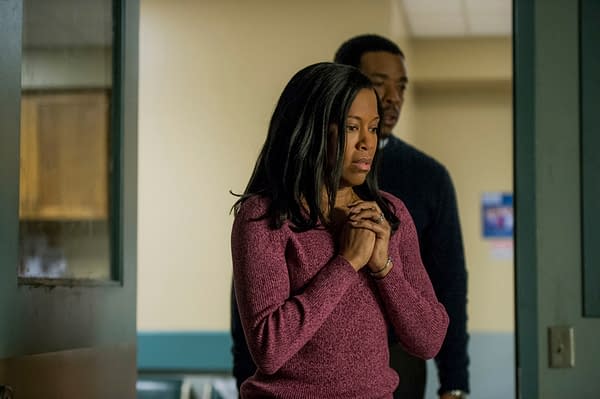 King's Latrice is described as a devout churchgoer and a proud wife, mother and first-time home owner who is shaken to her core when she learns that her 15-year-old son has been involved in an incident. When she learns that there's more to her son's situation than she and her husband were first aware of, Latrice is rocked by the power of her anger at her son's predicament — an anger that will change her life and her relationship with her husband.
In 2014, Sud discussed some of the attractions to working with Netflix when discussing her work on The Killing:
"You have two obvious differences. On Netflix, each episode is longer because there are no commercial breaks, so the intensity of the storytelling is nonstop, which is something that every storyteller loves — not to have to go to commercial break and sell Tide to your viewers. Then the other piece that's fantastic for our show being on Netflix is we can speak in the type of language [of that world] — we can drop F-bombs; we can curse. There are no limitations the same way that there are on language in broadcast. We certainly don't do it with any gratuity, but there is an authenticity that I think merits dropping a few F-bombs, especially this season."
Seven Seconds will premiere its entire season on Netflix on Friday, February 23rd.