The Walking Dead: Read Carl's Letter to Rick from This Week's Episode [SPOILERS]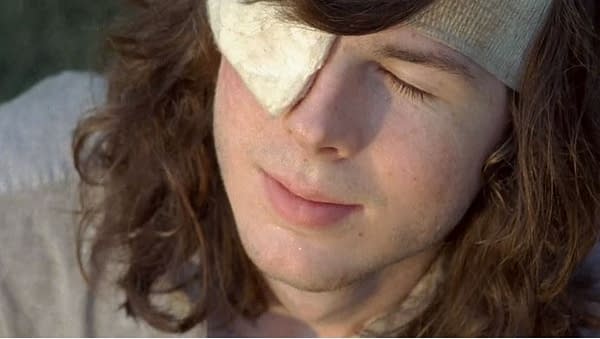 For those of you who watched/listened to Bleeding Cool's review of the 14th episode of The Walking Dead season 8 ('Still Gotta Mean Something'), you know how we felt about the last moments when Rick (Andrew Lincoln) finally found himself in the right place in his head to take Michonne's (Danai Gurira) advice and read the letter that Carl (Chandler Riggs) left for him. It gave us major feels — so of course the episode ended just as Rick started reading.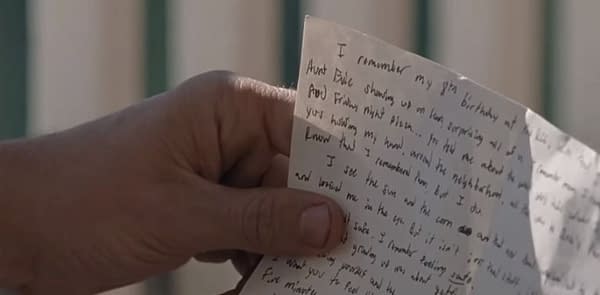 Well, it appears that next week's episode, 'Worth', pretty much picks up where things left off: Rick reading the letter. Thanks to our friends at The Internet, we were able to take a look at the scene from the upcoming episode, and do a lot of pausing/rewinding to transcribe what may be the memorable moment of the episode — if not of this half-season.
Now while I know this goes without saying, just to be safe… I remember my eighth birthday at KCC with that giant cake and Aunt Eavey showing up on leave, surprising all of us. I remember Mom, I remember Codger, I remember school and going to the movies and Friday night pizza and cartoons and Grandma and Grandpa and church. Those summer barbecues and the kiddie pool you got me. We could've used that at the prison.

You told me about the walks we'd take when I was three. You holding my hand around the neighborhood, all the way to Ross' farm. I didn't know that I remembered them, but I do. Because I see the Sun, and the corn, and that cow that walked up to the fence and looked me in the eye.

And you told me about all that stuff, but it isn't just that stuff. It's how I felt. Holding your hand, I felt happy and special. I felt safe.

I thought growing up was about getting a job and maybe a family, being an adult. But… growing up is making yourself and the people you love safe. As safe as you can, because things happen.

They happened before. You were shot before things went bad. Kind of felt like things went bad because you were shot.

I want to make you feel safe, Dad. I want you to feel just like I felt when you held my hand. Just to feel that way for five minutes. I'd give anything to make you feel that way now.

I wanted to kill Negan. I wish I did, maybe it would have been done. I don't think it's done now. You went out there again, but I don't think they surrendered. I don't think they will surrender.

There are workers in there, Dad. They're just regular people. Old people, young people, families. You don't want them to die, Dad.

We're so close to starting everything over, and we have friends now. It's that bigger world Jesus talked about. The Kingdom, the Hilltop… there's got to be more places. More people out there. A chance for everything to change and keep changing.

Everyone giving everyone the opportunity to have a life. A real life.

So if they won't end it, you have to. You have to give them a way out. You have to find peace with Negan. Find a way forward somehow.

We don't have to forget what happened, but you can make it so that it won't happen again. That nobody has to live this way. That every life is worth something.

Start everything over. Show everyone that they can be safe again without killing. They can feel safe again. That it can go back to being birthdays and school and jobs and even Friday night pizza, somehow. And walks with a dad and a three-year-old holding hands.

Make that come back, Dad. And go on those walks with Judith. She'll remember them.

I love you.

Carl
Here's a look at this Sunday's penultimate episode of The Walking Dead season 8: 'Worth':
The Walking Dead Episode 8×15 'Worth': With the threat of the Saviors still looming, Aaron continues searching for allies; Daryl and Rosita take action and confront an old friend.
All out war has had a devastating impact on every person involved. The communities themselves are fractured. Alexandria has been destroyed, the Hilltop finds themselves pinned, and the Kingdom is shattered — half of them dead, the other half controlled by the Saviors.

At the very center — Rick, having been distracted by the conflict, has just returned home to learn that Carl, who heroically shepherded the Alexandrians to safety during Negan's attack, has been bitten by a walker. Once his sole motivation in this otherwise stark existence, Rick is forced to deal with this reality. Carl has always been a beacon of hope, a symbol for the remaining thread of humanity — lessons that the survivors around him would be wise to take with them as this war surges onward.

But Rick isn't the only person who's living in peril. Aaron and Enid are in a dire situation at Oceanside — unclear if they're in friendly territory, or if they've just made new enemies. Father Gabriel will do his part in attempting to smuggle Dr. Carson safely back to the Hilltop and a pregnant Maggie is wrestling with the many moral gray areas that come with leadership during war. In a standoff with the Saviors, she must decide how to proceed with the dozens of POW lives she's currently in control of, as well as new complications that come with being a leader.

In addition to the war, Negan continues to deal with struggles within his ranks as workers, traitors, and others' thirst for power cause conflict at the Sanctuary. Having gifted the Saviors a major victory, Eugene's loyalty is repeatedly tested as new obstacles present themselves.

As all-out-war consumes us, the line between good and evil continues to blur. People fighting for what they believe in. Everybody working together for something bigger — to feel safe and have a world worth living in.
---
---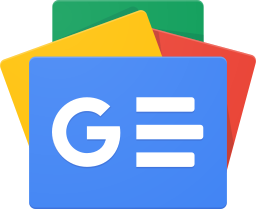 Stay up-to-date and support the site by following Bleeding Cool on Google News today!