'Broad City' Season 4: Unemployment, Sex Therapy, And RuPaul From Bleeding Cool reporter Marilyn Weiss:
Oh my goddess! It's almost time for Broad City Season 4!
The girls are back! Abbi Jacobson (Abbi Abrams) and Ilana Glazer (Ilana Wexler) showed off a hilarious new episode from the series' upcoming fourth season to an ecstatic crowd at SDCC.
In the episode, Abbi deals with unemployment and growing older, while Ilana visits a sex therapist to deal with her recent dry spell. And as if there was any doubt, the new season is going to be just as feminist-focused as ever.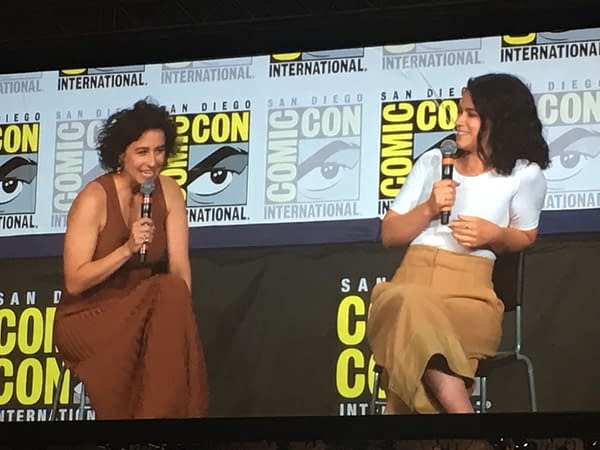 The girls also teased the first episode of the season. The season kicks off with a flashback to the first time the girls met, peppered with all of the charms of the New York subway system.
The new season will also feature an amazing list of guest stars, including Fran Dresher, Wanda Sykes, Shania Twain and Ru Paul. As for their favorite guest star thus far? That title goes to Amy Sedaris, who brought her own neck brace along with her for filming. Attendees were also treated to the story of Val, Abbi's blackout drunk alter ego. "Val" is actually based on Jacobson's real-life drunk alter ego, who would make her appearances during Abbi's college days after a couple of Southern Comforts.
Broad City Season 4 premieres Wednesday, September 13th at 10:30 p.m. ET on Comedy Central.
https://youtu.be/qulS9LdUxAU