Andrew Lincoln, Dominic Cooper, Joseph Gilgun, and Seth Rogen Succumb to Bleeding Cool's Equipment [SDCC]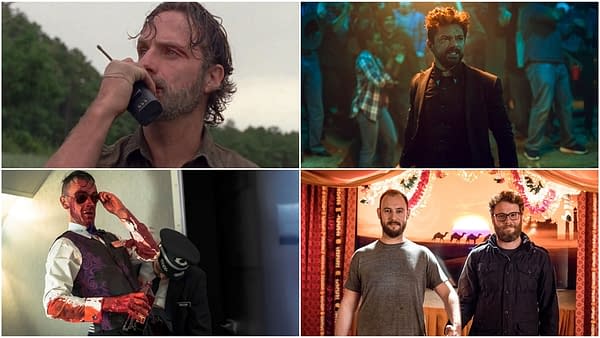 We here at Bleeding Cool approach the sheer raw power and influence that we wield across the pop culture landscape with a little modesty and humility: comics, film, television, video games, collectibles, cosplay — you name it, we've got it on lock. But as kind, merciful giants within the entertainment industry, we choose to stay close to our humble geek roots.
I know you're probably rolling your eyes and thinking, "You can't be serious, 'Ray-Who-Are You?.' You're not that big a deal." Confronted with such an obvious challenge to our utter dominance, I offer two examples of how even the recording equipment that Bleeding Cool uses can stop AMC greats Andrew Lincoln (The Walking Dead's Rick Grimes), Dominic Cooper (Preacher's Jesse Custer), Joseph Gilgun (Preacher's Cassidy), and Seth Rogen (Preacher executive producer) in their tracks and grab their attention by the collar.
Our first example is from The Walking Dead's international press breakfast at this year's San Diego Comic-Con, which included this red carpet moment:
Two important points that need to be shared. Contrary to the impression that the voice you hear in the video is trying to brainwash you into believing (get more into that in a second), Lincoln developed an instant fascination with purple-cased tablet I was sporting — home of the fine video you see above — to the point where he took a quick look at it when he walked around the pool.
Second, I'd personally like to thank the 5-6 "fine members" of the red carpet press pool for the "respect," "decency," and "professionalism" shown to me while Lincoln was trying to talk to me — but please make sure to read that last line with two righteous scoops of sarcasm.
During the Preacher press conference, merely the sight of our Snowball microphone would: stop Gilgun from complimenting a very cool pair of boots on the reporter next to me to ask about it; have me walking away from SDCC knowing that Cooper and I have at least one thing in common; and that Rogen always knows when to drop a smooth pop culture reference into the equation.
Now enough with the apologies for doubting us, young padawans. Remember: we're kind, merciful giants. ;-)