Star Wars Reveals New Black Series and Vintage Figures at NYCC
Star Wars has always made a presence inside the convention world as it has one of the biggest fan bases. During the Star Wars panel at New York Comic Con, Hasbro has revealed A whole list of new upcoming figures. While some of the stuff was already revealed for Triple Force Friday we did get a glimpse at some new and upcoming vintage figure and some of the stuff was already revealed for Triple Force Friday we did get a glimpse at some new and upcoming Star Wars Vintage, Black Series and Commemorative figures. First, we will be getting a new Galaxy of Adventures Luke Skywalker with slashing action. Luke will be quite articulated and he is based on his appearance in Star Wars: Return of the Jedi and will be exclusive to Walmart.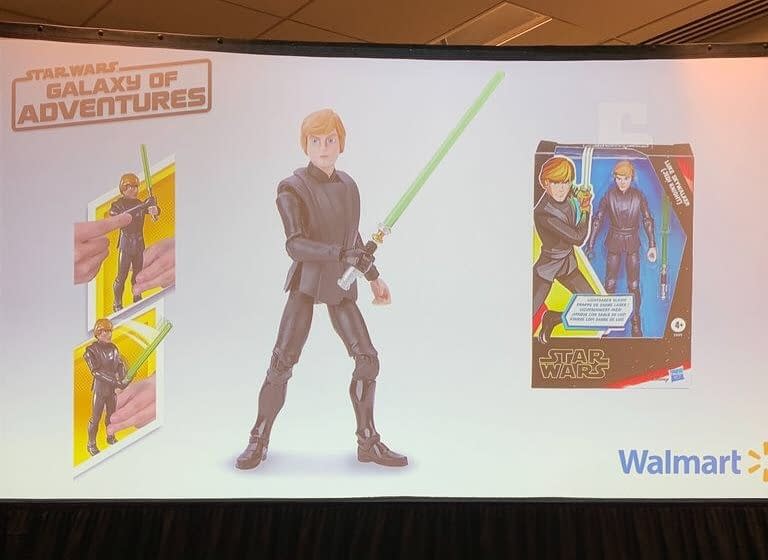 Next, we were shown the Walmart exclusive commemorative two-pack figures. These were already released on Triple Force Friday but it looks like we will also be getting three sets for the prequel Star Wars films. Darth Maul and Yoda are the first two to commemorate Star Wars: The Phantom Menace. Jango Fett and Mace Windu are packed together for Star Wars: Attack of the Clones. And lastly, Anakin Skywalker and Obi-Wan Kenobi are getting a two-pack for Star Wars: Revenge of the Sith. It also looks like we will be getting two packs for the newest trilogy in the near future. It was also shown that all the commemorative two-pack commemorative figures will have art from the retrospective films on the back.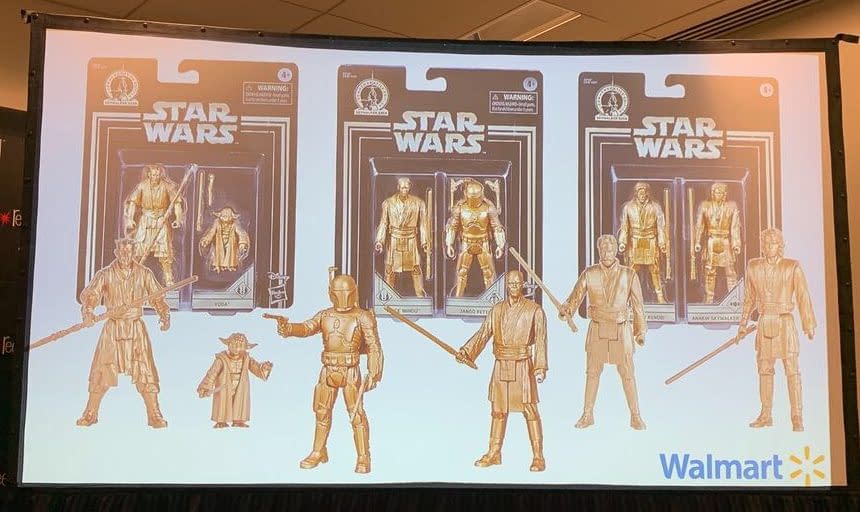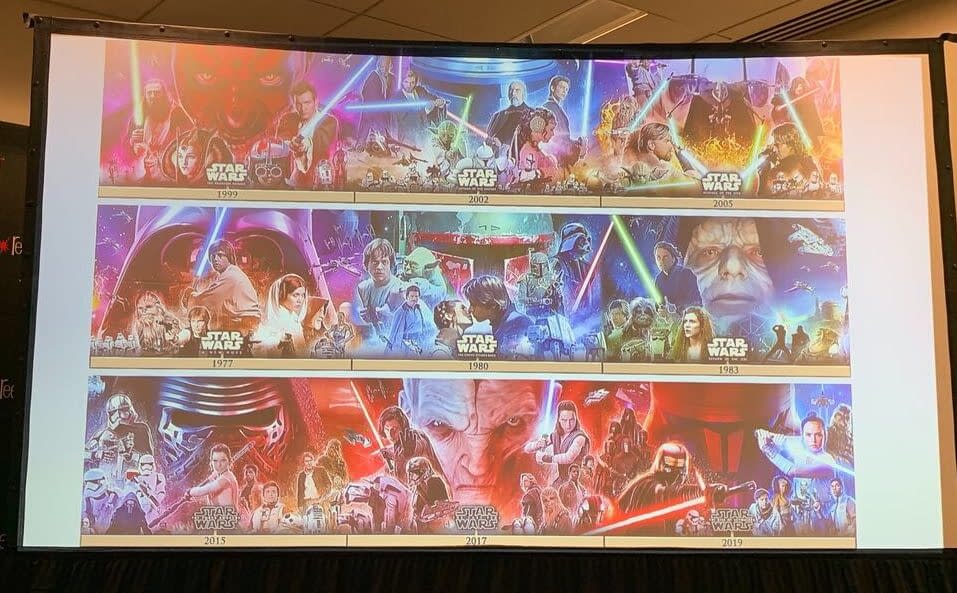 Moving onto Star Wars: The Vintage Series, we will be getting a vintage Luke Skywalker in his Yavin ceremonial outfit. His backing will be his scene from Star Wars: A New Hope and he will be a Walmart exclusive. We will also be seeing vintage figures of Princess Leia in her ceremonial outfit too. The Jawa, Shadow Trooper and Sith Trooper will also all be getting vintage figure treatments. Amazon will be getting an exclusive Sith Trooper armory pack. This exclusive comes with the Sith Trooper as well as five weapon accessories. One of the last reveals from the Star Wars Vintage Collection is a Target exclusive, Cave of Evil three-pack. The pack comes with Luke, Yoda, and Darth Vader who seem to have a removable mask to show Luke Skywalker's face underneath.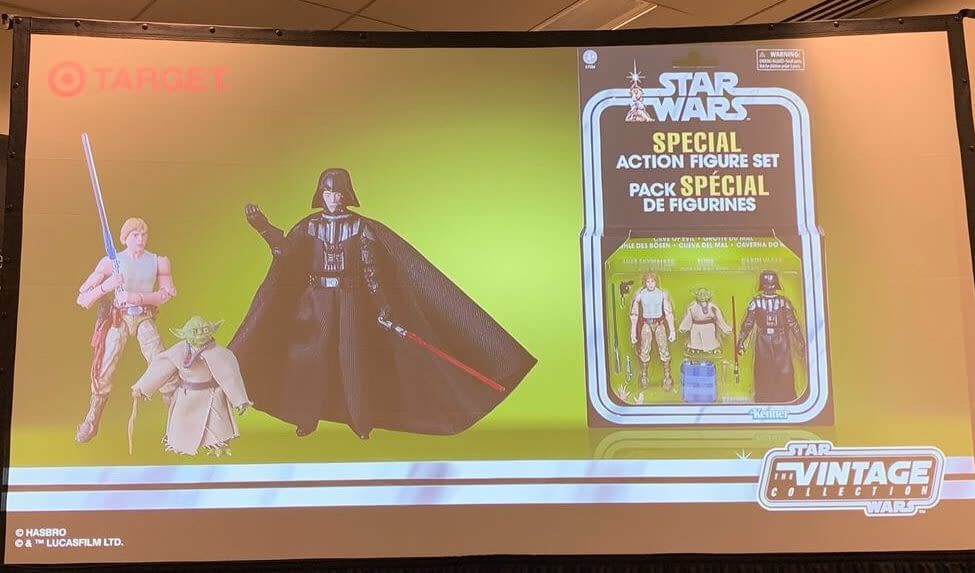 The next reveals were all from Star Wars: The Black Series. First up we are getting some Target exclusives. The First Order Snow Trooper will now be a Target exclusive. C-3PO with Chewbacca's blaster will also be getting an exclusive Target Black Series release too and is based on the appearance of the droid in Star Wars: The Rise of Skywalker. The figure itself will have color-changing eyes with colder temperatures. And speaking of exclsuives, Walmart will be getting an exclusive Force Spirit Yoda Black Series figure.
It also looks like the First Order Jet Trooper will also be getting a common Black Series release compared to the Carbonized version already in Walmarts. Famous X-Wing Pilot Wedge will also be getting his figure as well as Clone Commander Fox. Fox has been seen in stores already, so be on the lookout. From The Mandalorian, IG-11 will be getting a figure exclusively going to Best Buy. And last but not least and one of my favorite Star Wars The Black Series reveals, we will be getting a Chewbacca and C-3PO Star Wars: Empire Strikes Back two-pack. The two-pack is set as an Amazon exclusive and see Threepio will have removable parts. Chewbacca will come with a mesh backpack so you can store C-3PO on Chewy. This showcases the iconic scene on Bespin at the end of Empire Strikes Back.
Those are all the reveals from the New York Comic Con Hasbro Star Wars panel. However, there was a little secret I noticed was on the final product reveal page it looks like there's an upcoming Black Series Replica Incinerator Storm Trooper helmet! You can never get enough Stormtrooper helmets to collect! With the original selling out so fast and the Shock Trooper slowly fading out of stock it'll be nice to add a new helmet to Trooper ranks.