You know it's officially the holidays when Metropolis Collectibles sends you wine. Every year I sit and patiently wait for Santa Vince to deliver a bottle of their limited edition run. Rumor has it that they only send these to their best customers too — I'll go ahead and assume we're all their best customers.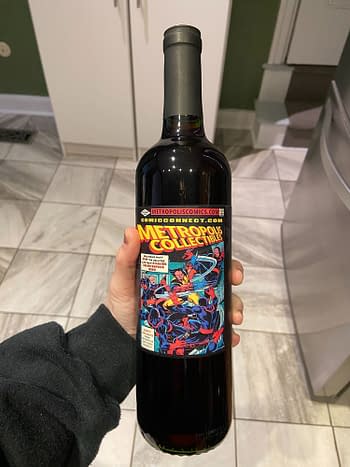 As you can see, the label is a recreation of Uncanny X-Men #133 from 1980. The label shows owner Vincent Zurzolo as the popular Wolverine, who's lashing out against the Hellfire Club. These labels are always recreated so lovingly well — I absolutely keep these bottles long after the wine is gone! Granted, I could try and peel the label off, but the bottles look so nice when you display them. This year Metropolis sent out a red wine with floral notes, which goes well with the season. So is this years wine good? Have I learned how to review wine properly? Will I spill it all over that nice white couch I'm on? All this and more on today's Nerd Food!
Did you receive a bottle of their wine this year? What did you think? Did you pair it with something delicious? Let us know in the comments below! Cheers!
Enjoyed this article? Share it!