Despite WWE pulling Becky Lynch from her Survivor Series champion vs. champion match with Ronda Rousey, Rousey and Lynch are continuing their feud on Twitter. Rousey called out Lynch Wednesday, once again referring to her as "The Millennial Man" part of a bizarre, probably Vince McMahon-driven plan to incorporate "goddamn kids these days" messaging into all of her promos. Here at Bleeding Cool, we're all about the Women's Evolution (TM) and not restricting WWE's female performers based on traditional gender roles, but that doesn't mean it's necessarily a good idea to make Ronda Rousey's gimmick "basically your grandpa."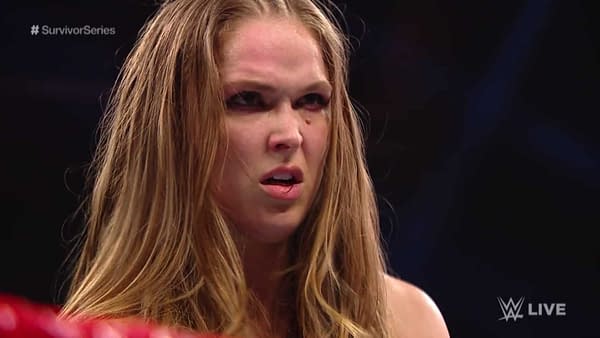 Nevertheless, that's the direction they're going in, as Rousey said to Lynch on this week's Monday Night Raw:
Becky, you are so hypersensitive. You're not just 'The Man.' You are the Millennial man. You are the skinny jeans wearing, v-neck sporting, avocado toast munching, wingtip wearing, Millennial man, with a bubble-wrapped ego and a porcelain self-perception. Someone needs to tell 'The Man' that I am not Charlotte Flair, Raw is not Smackdown, and being offended doesn't make you right.
Rousey was ostensibly riffing on Lynch's appropriation of the nickname "The Man," as in "to be The Man, you have to beat the Man, wooo!" which Lynch claimed after defeating Charlotte Flair for the Smackdown Women's Championship. But the promo made no sense, not only because it didn't accurately describe Lynch in any sense, but also because Rousey herself is both a Millennial and younger than Lynch. In any case, Rousey took to Instagram to launch an attack on Lynch after Lynch appointed Flair to take her place against Rousey at Survivor Series.
@beckylynchwwe I'm really sorry to hear The Millennial Man will not be showing up for her legally arranged ass whooping on November 18th at the Staples Center.

Unfortunately now everyone knows if someone hauls off and punches you for real, your face implodes. I suggest you keep practicing your tough guys faces in the mirror, should be very effective physical therapy.

And have fun watching Korean soap operas on Netflix or whatever the hell the Millennial Man does with her free time. Don't worry I'm not the back stabbing cheap shotting ambushing cowardly type, so you're perfectly safe to take your time and heal up until your figurative balls have dropped and you're finally ready for your comeuppance. I want you 100% healed up, prepared, and looking me in the eye when the bell rings. Lemmie know when you're done healing your boo boos and ready for me to serve you your ass on a silver platter with your avocado toast.

I do have to admit, The Millennial Man is stunningly conniving. She poked the bear and ran like a bat outta hell when the bear awoke – Feeding me her favorite frienemy and fellow #FAUXhorsewoman @charlottewwe is a new level of manipulative cowardice, even for The Millennial Man. @charlottewwe is a Superfight and I've always wanted to fight her – but she's just the stand in for the beating @beckylynchwwe has coming to her this Sunday. I'll be sending The Champ a choice piece of Charlotte as a souvenir🖕🏼 #RondaVsCharlotte #SurvivorSeries #Nov18 #4horsewomenVSfauxhorsewomen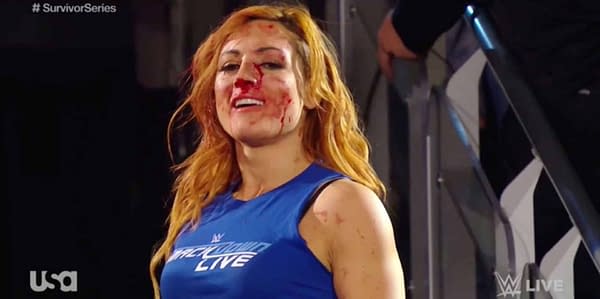 In addition to taking more shots at Millennials, Rousey also broke kayfabe by implying that until Nia Jax accidentally stiffed Lynch on Monday Night, causing a "broken face" and dousing Lynch in her own blood to create an iconic post-Rousey-beatdown image, all of the thousands of punches to the face Lynch has taken in past wrestling matches have not been "for real." Lynch responded:
Ronnie, TL/DR. When I got my face broke I got up, owned you THEN showed up the next day looking to fight some more. When you got your face broke you hid for a year under your blankie. Your mind is as weak as your jaw, & I'm going to move heaven & earth to come destroy them both. https://t.co/8oDubzNYr4

— The Man (@BeckyLynchWWE) November 14, 2018
It looks like Lynch and Rousey may have to wait until WrestleMania, which would probably be the best main event option in the current WWE landscape (and please make it a one-on-one, not an eight-woman-tag), so where does "The Man" go from here? Our advice is that she go and defeat Nia Jax in retaliation for the broken nose and then claim her title of "The People's Champion" from Jax's cousin, Dwayne "The Rock" Johnson. Or alternately, she could win it from Diamond Dallas Page in a yoga contest.
As for Jax, who looks to be up next for Rousey after Survivor Series, she's got her own commentary on this whole affair.
Hey…we don't deliver mail, things happen. Is anyone gonna ask me about how my fist feels? pic.twitter.com/RjRVcVWTEQ

— 🌺 (@NiaJaxWWE) November 14, 2018
To which Lynch responded:
You gave me your best sucker punch, but I got back up to destroy your whole roster. They won't let me fight, but I'll get back up from that too. It's what I do. So enjoy your one free shot, because as bad as my memory is now, I haven't forgotten you, bitch. https://t.co/4dZW4hCmaf

— The Man (@BeckyLynchWWE) November 14, 2018
Go get her, Champ!
Enjoyed this article? Share it!