Interesting New Trailer For Roman Polanski's Carnage, Starring Christoph Waltz & Kate Winslet
The reason that this film first grabbed my attention was that it stars Christoph Waltz, and Christoph Waltz playing an American. Widely considered to be one of the greatest things about Inglourious Basterds, Waltz burst onto the US radar after many years of working almost exclusively in Austria and Germany and now he's a pretty hot ticket, having recently starred in Green Hornet and Water For Elephants and signed up for Tarantino's next project Django Unchained.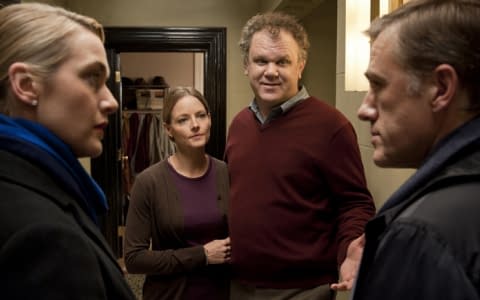 I'm talking a lot about Christoph Waltz, but Roman Polanski's new film Carnage, based on the play God of Carnage by French playwright Yasmina Reza, has a great ensemble cast that's made up of four players: John C. Reilly, Jodie Foster, Kate Winslet and Waltz. The film is about two sets of parents who decide to get together for a civilized dicussion after their sons get into a playground brawl. The meeting quickly devolves into sheer madness – carnage, if you will – and hilarity ensues, along with lots of shouting and stamping. The international trailer has just arrived and actually looks pretty good.
[youtube]http://www.youtube.com/watch?v=2SL5SGG0UYw[/youtube]
If I've any criticism of it, it's that it looks very much like a film based on a play. By that I mean that the whole thing seems to take place inside one house and with only the four main actors, and seems to take place in real time covering the two or three hours of the meeting. I'm not saying that any of this is intrinsically terrible, but one of the benefits of brining a play to the big screen is the ability to branch out a little from the source material. In any case, I'll reserve judgment until the film is released, which will be in mid-December in the USA, though unfortunately we don't yet have a UK release date.