I remember seeing the ads for The Alienist on TNT. It had that Sherlock Holmes feel to it with Daniel Brühl playing Dr. Laszlo Kreizler, an alienist. This basically means someone who studies the mentally ill; those considered alienated from society. He teams up with an artist named John Moore (Luke Evans) and a woman with the New York Police Department, Sara Howard (Dakota Fanning). And while I'm a huge fan of detective series, especially set around the turn of the century, this one felt like we'd just seen it with Houdini & Doyle. I was very much wrong on that assumption.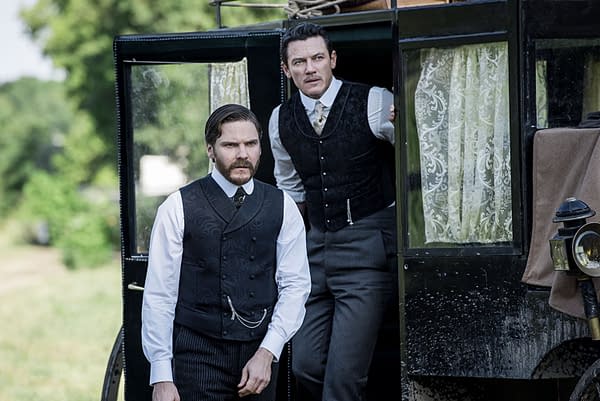 This is more like a Jack the Ripper-style series that focuses on one killer and the politics around trying to catch him. It delves into the seedier side of New York, the extreme difference between the rich and the poor, and just how much corruption existed in the police force and government. The rich did whatever they wanted to whomever they wanted. I found this out by accidentally binge-watching nine of the 10 episodes of the season. I was bored last night and found it on demand. I watched the first episode over dinner and found my self at 1 a.m. kicking myself for not realizing the season finale isn't until Monday night.
This isn't a Sherlock dynamic where Kreizler is the genius detective and Moore forces him to explain his brilliance so the audience can follow along. It's more of a team working the case where each person brings something unique to the table. They all make their own discoveries, and the two detective twin brothers Marcus (Douglas Smith) and Lucius (Matthew Shear) are just as important as Kreisler or Howard. The best show to equate this to may be Criminal Minds — the team works to piece together the reasons why the killer is killing the people he is killing. And each person on the team has their own issues to deal with.
A strong cast and story pulled me in quickly; but the show has its flaws. Some things move too fast, like a romance that appears to be one-sided for most of the season suddenly becoming mutual when it's convenient. People are actively trying to kill members of the team with no consequences. They give us only one suspect for the longest time, so it's not really a "whodunit", and the fact Teddy Roosevelt (Brian Geraghty) is a character can, at times, be distracting.
All that aside, I have found the series to be quite engaging and a bit refreshing. The characters are more realistic for the time than we normally get on television. The Alienist is easily one of the best things on TNT.
The Alienist season finale airs tomorrow night at 9 p.m. on TNT.
Enjoyed this article? Share it!