Altered Carbon Season 1, Episode 5 Recap: The Wrong Man
This article contains spoilers for Altered Carbon episode five, 'The Wrong Man'.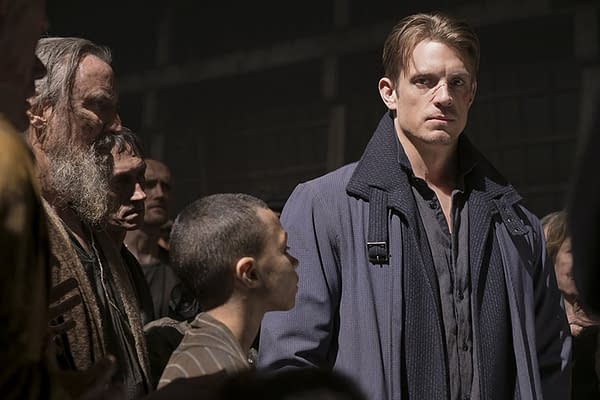 This episode starts off a little strange as we see Kovacs (Joel Kinnaman) interrogating a guy about Mary Lou Henchy, but we quickly discover that this is actually Elias Riker doing the interrogating and Henchy was his friend growing up. He doesn't believe her conversation to Catholic which prevents her from being spun up in virtual or re-sleeved, meaning they can't find her killer. Ortega (Martha Higareda) comes in and stops him. This is how she explains her former partner to Kovacs. He wants to know why he was dropped into that particular sleeve so he goes to Suntouch House to confront Bancroft (James Purefoy), but he's not home.
Miriam (Kristin Lehman) tells Kovacs she wants him to drop the case, that she will grant his freedom, give him a new sleeve and even take him to an island where he can play with her in multiple clones at once. He passes and tracks down Bancroft, administering to the infected. Bancroft openly touches the people, becoming infected himself. He explains that he picked the Riker body because it has the neuro-chem enhancements that might help Kovacs and it would piss off Ortega who he didn't feel showed him enough respect. Bancroft then dies, the people treat him like a God, while he will be waking up in a clone completely fine on the other side of the city.
Ortega takes the head of Dimitri the twin to her computer guy who is also looking for the Ghost Walker that has been popping up here and there. Tells him to put Dimitri in virtual or a body so she can interrogate him as he told Kovacs that he was the one who framed Riker. Meanwhile Poe (Chris Conner) has a lead from another AI that Bancroft was at a fight club the night of his suicide. They meet Carnage (Matt Frewer) the fight promoter who believes that Kovacs is Riker still. He shows them the footage. Isaac (Antonio Marziale) is at the fight and Bancroft shows up and starts beating on him, telling him, "you're not me."
They go to Isaac's place where they find a 3-D printer and a clone of Bancrofts body. Isaac was the one who went to Osaka and closed the big deal, not Bancroft. Part of how he keeps his family in line is he keeps them in young sleeves and none of his money will go to them. Isaac has found a way around that, if his father is dead then he can just take over as Laurens Bancroft. Which makes everything fall into place. Kovacs and Ortega go back to her place where we learn that she and Riker had been an item and now she and Kovacs sleep together.
Back at the station, they go in to interrogate Dimitri, who is in the gang-banger sleeve from last episode. He gives them nothing and Ortega's boss and partner show up, getting her in trouble. She and Abboud (Waleed Zuaiter) get onto an elevator with Dimitri and an officer named Levine, except he's been replaced by the Ghost Walker who appears to be a religious zealot. He attacks the two cops, freeing Dimitri to help. Ortega gets pretty messed up. The ghost walker is about to shoot her in the stack, meaning real death, but Abboud jumps in the way and takes the shot, most like dead for good. The gun is empty, so he can't finish Ortega. Dimitri pulls him away and the episode ends with Kovacs finding the bodies and trying to get help for Ortega.
At the halfway point, both Kinnaman and Higareda are great. They have a good chemistry with each other and the rest of the cast. Things that seem a bit chunky in the novel are much smoother here and the bulk of that is the ease in which the actors are inhabiting the characters. There's lots of added material here that wasn't in the book. The whole Isaac story line is unique to the series as there wasn't even an Isaac in the novel. Riker knowing Henchy is also an addition, giving him a more personal reason to be digging into what happened. The reason to go visit Carnage is a lot smoother in the series than in the novel, and there is no ghost walker character. In a way, he replaces another hired gun character in the novel, which may mean that the ending here could be very different. The basic concept and world are being kept, but they've add a lot to the series that just didn't exist in the novels.
I'll get back to the binge watching later today.