"American Gods": Orlando Jones Addresses Firing; Ricky Whittle Posts Response
For a show about the growing war between the old gods and new gods, you would think American Gods fans wouldn't be too thrilled with things being quiet – but STARZ's series had a bit of a bumpy ride heading into its second season.
After a return that gave the series a much-needed gritty, ensemble feel – and a season finale that literally (no joke) had us on the edge of our seats (even knowing how it would end) – things were looking good as production on the third season rolled along – and then Saturday happened.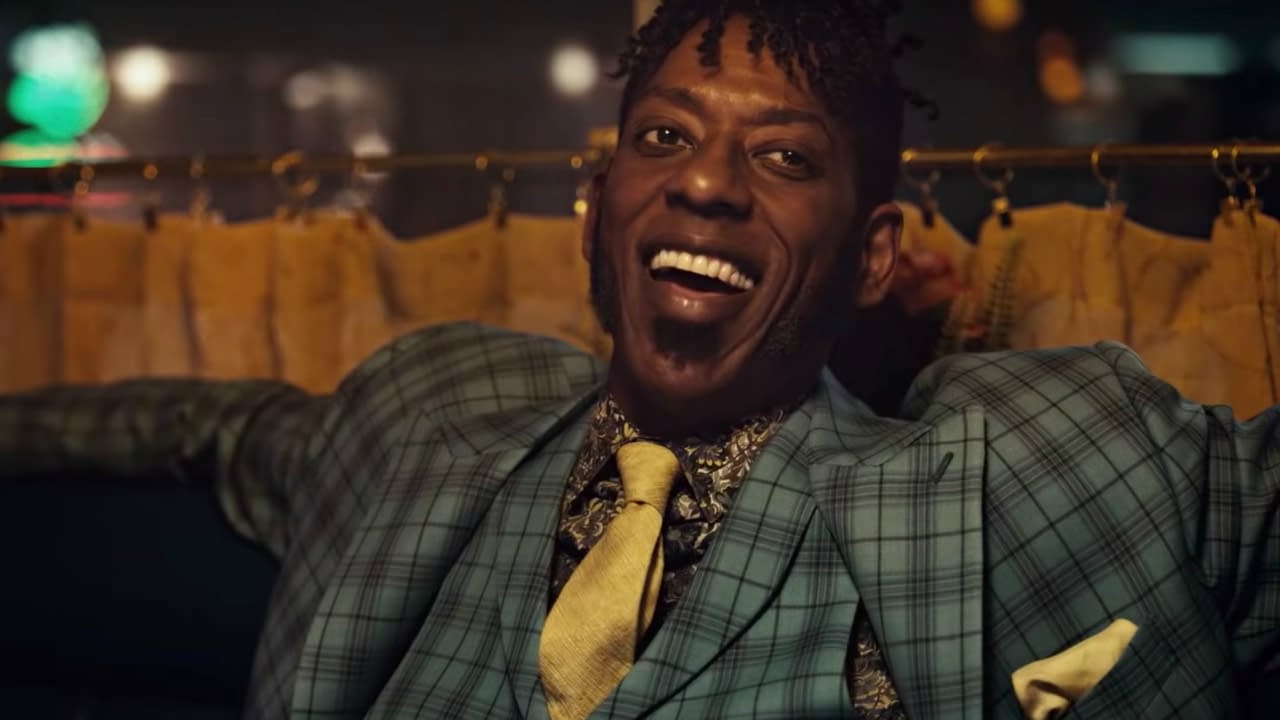 That's when Orlando Jones – otherwise known as Mr. Nancy aka Ghanaian trickster god Anansi – took to social media to post a video stating that he had been fired from the STARZ series.
While not naming third season showrunner Charles Eglee by name, Jones accused "the new season 3 showrunner" of using race and racial considerations to change his character in a direction he didn't approve of:
"He [Eglee] thinks Mr. Nancy's angry, get-shit-done is the wrong message for Black America. That's right: this white man sits in that decision-making chair."
Jones also accused Eglee of being motivated by outside influences ("many black BFF's") that convinced him that the focus on societal issues and race that the series adopted during the second season needed to be toned down for fear of a "Denmark Vesey uprising in this country" – implying that the decision to alter the character was born out of race-based fears of others and not a creative decision.
Jones continued by thanking author and executive producer Neil Gaiman as well as original showrunners Bryan Fuller and Michael Green, but not production company Fremantle US. In a follow-up tweet (all below), Jones referred to the production company as "a nightmare" and tagged Nick Cannon, Heidi Klum, Gabrielle Union, and Melanie "Mel B" Brown as examples of those who share that view.
For their part, Fremantle had this to say in a released statement on the matter:
"Jones' option was not picked up because Mr. Nancy, among other characters, is not featured in the portion of the book we are focusing on within season three."

On the same day Jones went public with the matter, he also sat down with Variety exclusively to offer more details on his position. Here are some of the main highlights/points from the interview (and you can find the full version here) – and following the videos below, we have Ricky Whittle's social media response to the situation:
● Jones went public with his status on American Gods out of concern that Fremantle had yet to announce that he would not be a part of the series' return and that fans were being sold on a new season he wouldn't be a part of:
"I assumed at some point somebody would say that I wasn't going to be in season three. And I imagined that someone would reach out or, there would be some sort of press release out to respond to that in some meaningful way."

"I was getting hundreds of messages from fans on each one of those [social media] platforms. 'We can't wait for Season 3,' 'We love Mr. Nancy,' 'I use this in my class,' 'this really touched my soul,' I mean, beautiful stuff. And to be honest with you, I cried. I just sat and cried because I knew that I wasn't going to be there."

"This is insane, so the person who they're going to hate is me. I didn't want to be in a scenario where somebody paid their hard earned dollars for Season 3 of 'American Gods' just to find out I wasn't going to be there. This is just wrong.
● Having taken on responsibilities behind the camera as a writer during the second season, Jones had high expectations to return. Sharing that he was asked by Gaiman to write a "character bible" for Mr. Nancy, Jones would also write for other characters of color – including Bilquis (Yetide Badaki), Salim (Omid Abtahi), Jinn (Mousa Kraish) and Sam Black Crow (Devery Jacobs).
Jones noticed a common thread among the characters he was writing for:
"When I showed up to work in Season 2, they hadn't written at all for Mr. Nancy. I ended up finding myself in the writing chair for all of the disenfranchised characters."
● Then on September 10, Jones was told that a "different creative direction" would result in (what Fremantle claims) his "option not picked up" – but Jones challenges that, stating that he was "fired" in a manner that hurt him professionally:
"I know I'm not going to be on 'American Gods' and you're trying to play like it's some option thing that you're not picking up but you fired me, I get it. But you also took me out of all this other work that I could do… To now say what they're saying, which is 'oh, we didn't pick up his option,' is laughable. Because if that's the case, why couldn't you have told me that months ago? Why did you take me out of work? Why did you hurt my family? Why did you not talk to me at all [and] never deign to have a conversation with me? And, and then not even tell the fans?
● According to Jones, Eglee never spoke to him about Mr. Nancy being cut from the series – but that he was aware that the new showrunner was not a big fan of the character: "He told everybody that he wrote from the black male perspective, told everybody that he thought [Nancy] was bad for black America."
● Jones revealed that he wasn't initally concerned about the status of the show's characters of color, even after Fuller and Green left the series. What he wasn't expecting was that he would end up being the one writing not only for Nancy but others – or the backlash he would get:
"I came to Season 2 with the expectation that that is what would happen, somebody else would write these characters. I did not come to Season 2 with the expectation that that job to write my own character was going to fall in my hands, nor did I expect Neil to ask me to do it, nor did I expect them to be angry with me about it.

To now pretend that this is just about some creative direction is really insulting. I hope is that nobody finds himself in a scenario where they go into a show, and this is what they deal with: a 19-month hiatus taking you out of work, and then to be fired summarily at the last minute."
● What confuses Jones the most is how he ended up in the situation to begin with, feeling that all he did was what was asked of him and to support representation on the show:
"Now you are a pariah, for what? That's for me what's most perplexing, most hurtful about it. It's like, what did I do to you people? It's not my first time having a bad thing happen. But this is purely different, because it does seem extremely personal and extremely pointed."
Early Sunday morning, Whittle posted a statement on the matter – which you can read below: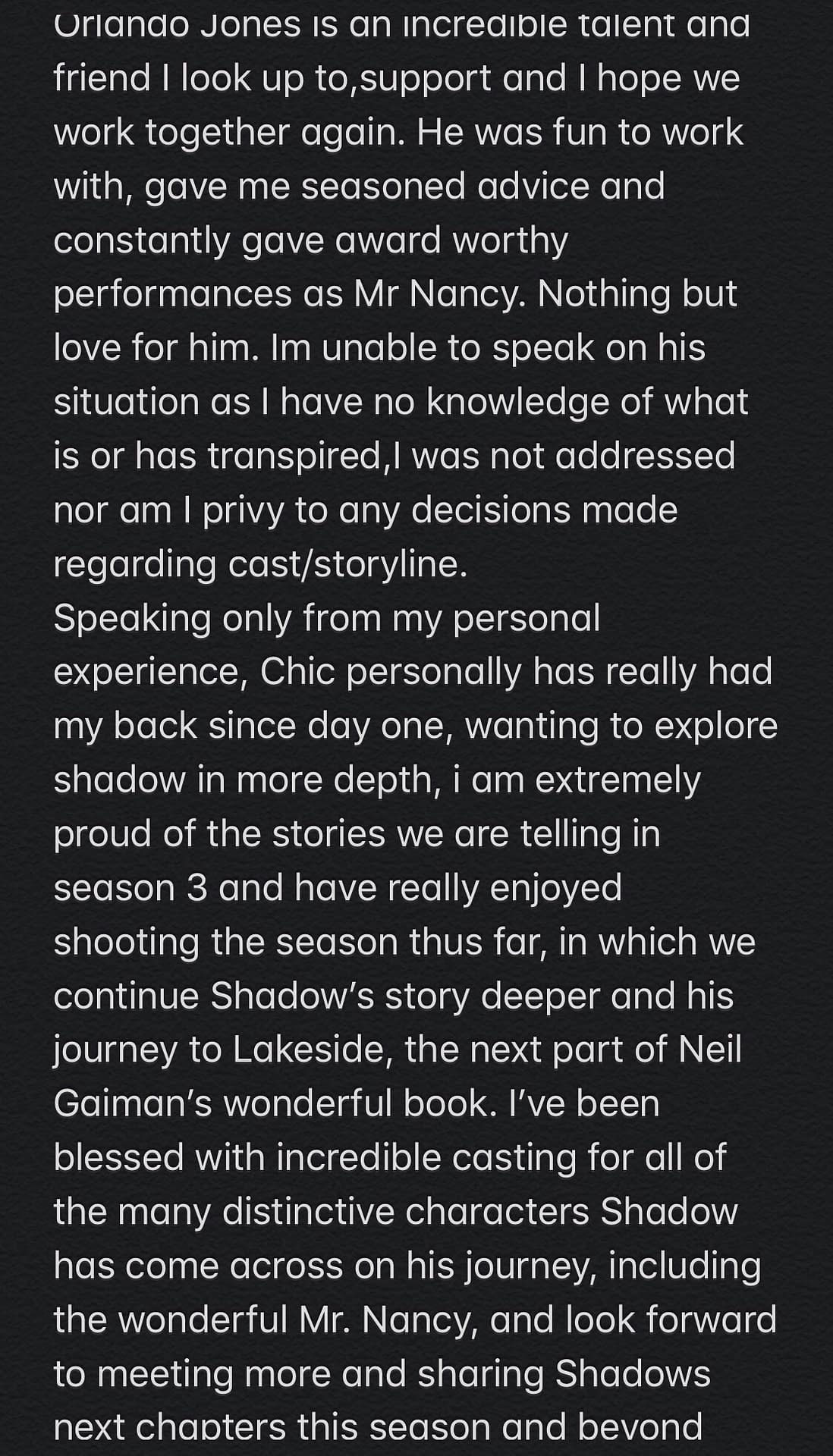 STARZ's Neil Gaiman adaptation is bringing on a number of new faces for the upcoming season – including Blythe Danner, Ashley Reyes, Herizen Guardiola, Marilyn Manson, Eric Johnson, Dominique Jackson, Lela Loren, Danny Trejo, Julia Sweeney, Wale, and Iwan Rheon.
● Danner's Demeter is the Greek goddess of the harvest – and a god with an unresolved romantic history with Mr. Wednesday. As if that isn't enough of a hurdle to challenege even Odin, there's one more glitch in the plan: Demeter was involuntary committed to a mental institution.
● Reyes' Cordelia is a whip-smart but rebellious college dropout facing mounting legal bills and student debt before Mr. Wednesday arrived in her life. Now, she road trips across the country meeting her boss' eccentric friends and helping him with "tech stuff," unaware she's caught up in a divine battle for the soul of America.
● Guardiola's Oshun who is the Yoruban goddess of love, purity, fertility who uplifted and empowered the enslaved people who built America. While known as the maintainer of balance, and the mother of sweetness, Oshun is formidable and known for her spiritual strength. This season, Oshun and her fellow Orishas play a mysterious but vital role in Shadow's spiritual awakening.
● Johnson's is Chad Mulligan, Lakeside's Chief of Police who spends his days mediating disputes between townsfolk he's known his whole life. This trademark low-key diplomacy works well for Chad until a local teenage girl goes missing, igniting a panic of paranoia and blame that threatens to tear Chad's beloved town apart.
● Jackson's Ms. World is an an incarnation of Crispin Glover's Mr. World – who is looking to control destiny with a mysterious new piece of technology that, if brought online, will have the power to dominate humanity's attention. And in this modern age, attention is worship.
● Manson's Johan Wengren is the bloodthirsty front man for Viking death metal band Blood Death. Wengren and the band play an important role in Mr. Wednesday's war against the new gods.
● Loren's Marguerite Olsen is not native to Lakeside, but she has become part of the fabric of the town as a trusted reporter for the local paper, a committed single mother of two, and a no-nonsense property manager. She is understandably wary of the pain vulnerability brings – but when Shadow moves into her building, he begins to chip away at her defenses and uncover a side to Marguerite she thought she'd locked away for good.
● Trejo will portray one of Mr. World's forms (similar to Jackson's "Ms. World").
● Sweeney's Ann-Marie Hinzelmann is the disarmingly warm one-woman welcome wagon for Shadow when he arrives at Lakeside. She's the owner of a small convenience store, a world-famous fishing lure artisan, and the unofficial self-appointed mayor.
● Wale's Chango is one of the Orishas, the gods of his ancestors, guiding Shadow on this journey. Armed with two axes, an electrifying charisma, selfless passion, and warrior spirit, Chango could guide Shadow to his true place within the world of gods.
● Rheon's Doyle is a charming, good-natured leprechaun who once embraced his stereotypical Lucky Charms-St. Paddy's Day image now on a path to a more dignified and honorable existence.
STARZ's American Gods season 3 follows Shadow as he attempts to break away and assert himself as his own man, setting down roots in the idyllic snowy town of Lakeside, WI, where he'll uncover a dark secret while exploring questions of his own divinity. Guided on this spiritual journey by the gods of his black ancestors, the Orishas, Shadow must decide exactly who he is: a god seeking veneration or a man in service of the "we."
American Gods stars Ricky Whittle, Ian McShane, Emily Browning, Pablo Schreiber, Crispin Glover, Yetide Badaki, Bruce Langley, Orlando Jones, Mousa Kraish, Omid Abtahi, Demore Barnes, Peter Stormare, Sakina Jaffrey, Dean Winters, Devery Jacobs, Kahyun Kim, Derek Theler, Laura Bell Bundy, and Christian Lloyd.