Posted in: FX, Hulu, Preview, TV | Tagged: ahs, ahs 12, American Horror Story, preview, zachary quinto
---
American Horror Story Season 12: Zachary Quinto Confirms Cameo & More
Zachary Quinto confirmed that he would be making a cameo during American Horror Story: Delicate (Season 12) and discussed Kim Kardashian.
---
As the writers' strike-impacted production on Ryan Murphy & Brad Falchuk's American Horror Story: Delicate rolls on, there's been a wacky mix of confirmed, unconfirmed & unofficially confirmed (because of set images) to report. We have Emma Roberts, Kim Kardashian, Matt Czuchry, Cara Delevingne, Michaela Jaé Rodriguez, and Annabelle Dexter-Jones locked in – and now we can add Zachary Quinto to that list. Although it's set to be a cameo, Quinto confirmed he was rejoining the long-running horror anthology series for its 12th season while speaking with PEOPLE at the Tribeca Film Festival (in support of his new film, He Went That Way). And when it comes to Kardashian, Qunto sounds like he's impressed. "I did a cameo on this season of 'American Horror Story,' and I got to meet her. She was so lovely and warm and, really, I don't think she needs my advice." Quinto added, "She seemed really in her element, and I was really impressed by her spirit and her openness. I really look forward to seeing this season because I think she's gonna do a wonderful job."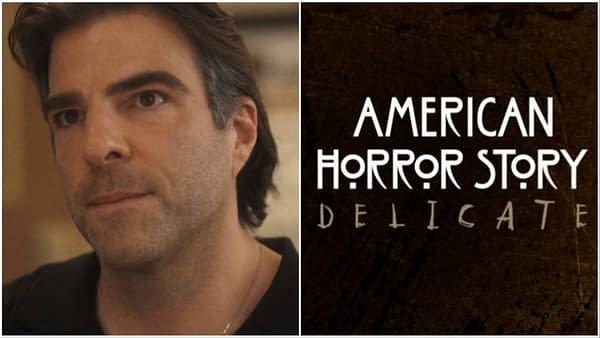 American Horror Story Season 12: What We Know So Far…
First up, it was confirmed that Halley Feiffer (American Crime Story, Kidding) will be the lone writer for the season as well as showrunner. We also learned that Murphy and Kardashian began speaking last summer about developing a role for her scripted television series debut. "Kim is among the biggest and brightest television stars in the world, and we are thrilled to welcome her to the AHS family," Murphy said in a statement to THR. "Emma and I are excited about collaborating with this true force in the culture. Halley Feiffer has written a fun, stylish, and ultimately terrifying role, especially for Kim, and this season is ambitious and "unlike anything we have ever done."
As for what that "Delicate" season subtitle tease (with the sounds & background visuals involving kids), look no further than the long-running anthology series' source material. The official overview for Danielle Valentine's Delicate Condition reads that the novel is "a gripping thriller that follows a woman convinced a sinister figure is going to great lengths to make sure her pregnancy never happens―while the men in her life refuse to believe a word she says." One author listed on the site describes the upcoming novel as "the feminist update to 'Rosemary's Baby' we all needed" (and we offer more details on the novel here):
Emma Roberts Talks American Horror Story 12: Delicate
Speaking with Bustle regarding how she approaches the festival season (Coachella, Revolve, etc.), Roberts was asked how her Season 12 character compares to the ones that she's portrayed during previous seasons. "This character is much more grown up," Roberts shared. "She dresses very Carolyn Bessette [-Kennedy], '90s New York — I'm obsessed with my character's style this season." Bessette-Kennedy was married to John F. Kennedy Jr. and an American publicist for Calvin Klein. Every aspect of the couple's relationship was under the media microscope for years – until the couple and Bessette-Kennedy's older sister, Lauren, died in a plane crash off the coast of Martha's Vineyard in 1999.
Patti LuPone Is No Fan of Kim Kardashian in AHS 12…
In the clip above from Bravo's Watch What Happens Live with Andy Cohen, host Andy Cohen takes AHS 11 alum Patti LuPone and fellow guest John Leguizamo through a few rounds of "Do! They! Give A Damn!?" – and that's when the subject of Kardashian & AHS 12 came into play. Kicking in at around the 0:40 mark, LuPone doesn't make it a secret that she's not thrilled that Kardashian is taking away a role from actors, calling Kardashian out for the decision and advising her to stay away from the live stage (with Leguizamo doubling down on the "emotion" that LuPone showed – a safe response).
… But Lily Rabe Trusts Ryan Murphy's Judgement
Asked about the news of Kardashian's casting and her thoughts on the back-and-forth that's gone on about it, Lily Rabe made it clear that Murphy's done more than fine with his AHS casting in the past, so there's no reason to doubt him now. "I don't know Kim… I know Emma. I love Emma, and I'm sure Kim is amazing. It's going to be a great season. Listen, Ryan Murphy knows what he's doing. He knows what he's doing, I can say that much," Rabe shared during the red carpet event for her HBO Max series Love & Death.
---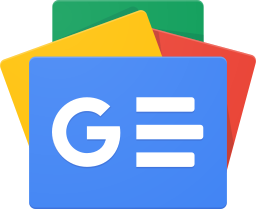 Stay up-to-date and support the site by following Bleeding Cool on Google News today!