'Animal Kingdom' Season 4: For Smurf, It's About Maintaining "Control" in New TNT Teaser [VIDEO]
Seven months after the intense crime drama was renewed for its fourth season, TNT is giving fans a new teaser trailer for their adrenaline-jolting summer series Animal Kingdom – and it's everything we could have hoped for in less than 30 seconds.
For those unfamiliar with the show, it centers around Janine "Smurf" Cody (Ellen Barkin) and her surf-loving, Oceanside, California-living sons and grandsons and the shenanigans they find themselves in.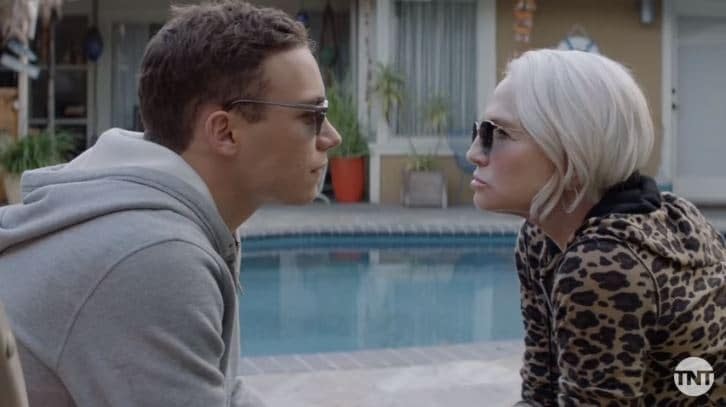 Oh, did I mention that those "shenanigans" include being a family of bank robbers who don't just limit themselves to banks: they hit up anywhere there's a profit to be made. Or to put it another way: a family of robbers that's willing to hit a church for a score is not a family to be messed with…
Here's a small taste of what's ahead… and if you haven't seen season 3, there will be spoilers below:
The thirty-second clip show isn't much, but it does give us a taste of what's to come: for starters, we see Smurf exchange some not-so-veiled angry statements to J (Finn Cole) about him keeping things from her… again. Wonder if he's still the go-to between the boys and her. That'll be especially awkward with Pope (Shawn Hatosy) off the rails now that he doesn't have Lena (Aamya Deva Keroles) to ground him and last we saw he was moving in with Smurf.
As far as Deran (Jake Weary), we don't really see much of him in this – maybe he's flying straight (metaphorically speaking) these days and too busy with the bar and Adrian (Spencer Treat Clark) – which is domestically adorable.
It looks like Craig (Ben Robson) is shacking up with Frankie (Dichen Lachman), who is still hanging around even though Billy left (good riddance, Denis Leary! lol). She asks him if he's still pulling jobs with his brothers, and by his look the answer is totally yes.
The end card says it's coming soon – maybe even sooner than expected. The past seasons didn't premiere until late May, so this first look into the new season of TNT's Animal Kingdom is a little early – but totally appreciated!