Arby's Pays Tribute To Wrestling Legend Jushin Thunder Liger
This weekend, at Wrestle Kingdom 14, Jushin Thunder Liger is about to wrestle the final matches of his career as he heads into retirement. Or at least, pro-wrestling retirement, which usually gets broken for a number of reasons. But usually in New Japan Pro Wrestling, when you retire, you stay retired. For the better part of 2019, Liger has been going on what is essentially a farewell tour. Having matches in as many places as he can, including Madison Square Garden back in April at the G1 Supercard.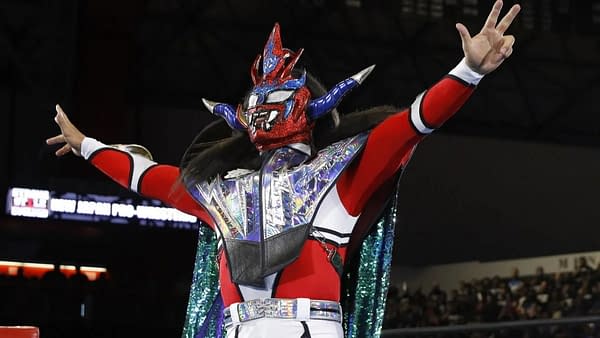 With his last matches on the way, the loveable geeks who run Arby's social media decided to pay tribute to the man on the way out. They've been doing clever Twitter posts involving making their wrappers and boxes into various objects. And they did the same for Jushin Thunder Liger by making one of his masks out of wrappers. A pretty cool gesture for them to do. You can catch Liger's final matches tonight and tomorrow in the wee hours of the morning on NJPW's streaming service. His first match will be an 8-man tag on January 4th as he teams with, Tatsumi Fujinami, The Great Sasuke, and Tiger Mask (with El Samurai) vs. Naoki Sano, Shinjiro Otani, Tatsuhito Takaiwa, and Ryusuke Taguchi (with Kuniaki Kobayashi). Then on January 5th, he has a tag match teaming with Naoki Sano (with Yoshiaki Fujiwara) vs. Ryu Lee and Hiromu Takahashi.