Coming out of the Crisis on Earth-X crossover, Arrow returns to its Thursday night time slot for the mid-season finale. Some big things happened during the crossover, so if you're not caught up, go watch it then come back to this article — there are spoilers in the trailer.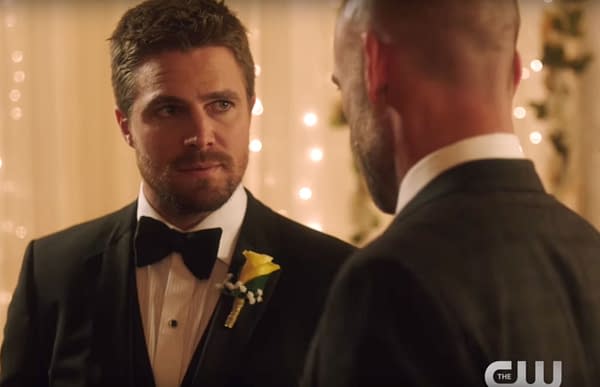 The synopsis for the episode talks about Quentin Lance (Paul Blackthorne) being abducted by Black Siren (Katie Cassidy) and Cayden James (Michael Emerson), but the trailer focuses more on a reception dinner for the newly married Oliver Queen (Stephen Amell) and Felicity Smoak (Emily Bett Rickards). And while the happy occasion includes family, friends and teammates, Lance arrives to give Oliver the bad news. There is a witness that will testify that Oliver is the Green Arrow — a witness who's on the team.
There has been talk that there would be a rift that would pit the original Team Arrow (Oliver, Felicity, and Diggle) versus the newer members (Rene, Curtis, and Dinah). Could this be it? Who would have a motive to out Oliver? What could they gain from it? And who else counts as being on the team? What about Lance and Thea? Maybe this is the return of Roy Harper? Or could it be Laurel Lance?
The Arrow mid-season finale airs Thursday, December 7th at 9 p.m. ET on the CW.
https://youtu.be/VRAxFxTRbbA
Enjoyed this article? Share it!