Arrow Season 6: Season Finale Title Might Give Hint to Season 7
The CW has released the title for the upcoming Arrow season 6 finale, and it may just give a huge clue to the game-changing aspect of season 7. I'm going to go ahead and give a spoiler warning here and continue after the photo in case anyone wants to jump out.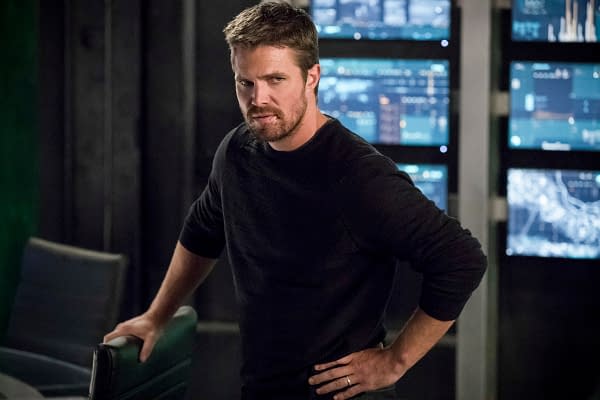 Now, the writers have continued their tradition of naming the penultimate episode after a Bruce Springsteen song, this one being 'The Ties that Bind'. Just for anyone who was wondering.
The finale is titled 'Life Sentence'. On Saturday I did a piece wondering if the game-changing thing that both Stephen Amell and Marc Guggenheim have been talking about was revealing Oliver Queen's identity as the Green Arrow to the world. And I still think that is going to happen. But with a title like 'Life Sentence', I'm now starting to think that season 7 may just take place in prison. It's not that far-fetched of an idea, and it's something no other superhero show has done. It might also explain why Roy Harper (Colton Haynes) comes back as a regular, since he's a wanted man and could end up in prison with Oliver. Oliver being in prison with a bunch of criminals he put there and all of them knowing it's him could be very interesting.
It's also not completely an unique idea. In 2008 there was a feature film script called Green Arrow: Escape from Super Max, written by Justin Marks (The Jungle Book), that had Oliver Queen sent to prison where the guards are corrupt and he has to team with various villains to break out. It's was as surprisingly good read and could make for a very interesting season, putting Oliver in a whole new situation and introducing a ton of new villains and co-stars. The draw backs would be a massive change in cast, they just spent a part of this season with Barry Allen in prison on The Flash, and the show would almost become the Arrowverse version of Prison Break, which is alive again on Fox.
And at some point they would have to get him out and clear his name or something, which goes against the insistence that the show won't undo the game change… unless that's the identity reveal part they're talking about.
Could this be where the finale takes us? Will the fans go for a season of Arrow without arrows?