If you didn't watch last night's new episode of Arrow, 'Docket No. 11-19-41-73', then you really shouldn't be clicking on links like this — because you KNOW there are going to be spoilers.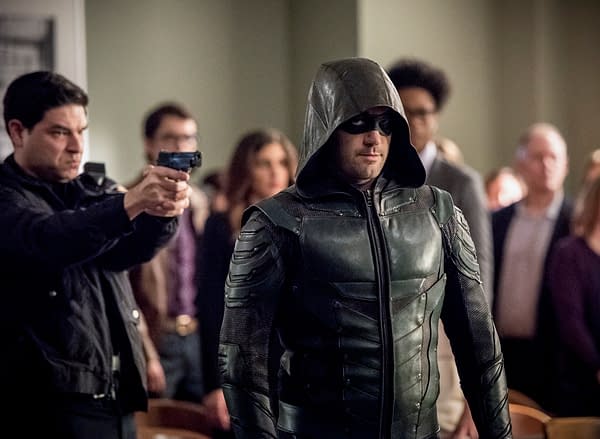 Last night featured a guest appearance of Collin Donnell as basically three characters. We first see him as the Green Arrow and pulls the hood back and claims to be Tommy Merlyn, but we later find out that he's Christopher Chance, aka the Human Target. It's a fun episode, and Donnell seems to really enjoy himself coming back to the show again. He spoke about it with TVLine:
When asked about how he reacts each time the series calls him to come back and if his first question is "how?":
Pretty much, especially this last time. I mean, how many different ways can you bring somebody back without actually bringing them back to life? He's an alternate universe version of himself. He's a hallucination. He's a flashback version. Basically, the things that they've left out are Lazarus Pitting him or, like, a stable version of himself that doesn't want to take a cyanide capsule when he's captured.
On if they made the costume for him specifically:
I'm not sure whose I wore, but they brought me in a couple of days early so they would have time to…
On how it was to play Tommy again:
The other thing that was really cool about this particular episode was being able to play, like, Classic Tommy. The courtroom scene started off very serious, but once the cameras turn around, you get to play a little bit more. The director, Andi Armaganian, was wonderful. She basically said, "Go as far as you want with being Tommy." I was like, "OK, sure," and as soon as I did it, she came back after that take and said, "You have no idea how hard all of us were grinning back at the monitors," because it was this reminder of this character that a lot of people fell in love with from the very beginning of the series. I was having a blast being back anyways, but to be able to really call back that persona of the guy who stood up against three bodyguards who were going to basically kick the s–t out his best friend, that was fun. It was nice to be able to live in that skin for a bit.
If he tried to act like Wil Traval when he was supposed to be Chance not in character?
I did. I actually went back and watched the episode that he previously appeared in, in Season 5. There's only one little moment at the very end, in the parking garage, but it did call for a bit of a shift in mannerisms, and he speaks a little differently than I do, so I wanted to try to get that down.
But what might be the best part of the interview is that the script was written without it being specified who was in the Green Arrow costume. The idea being that they would go after Donnell, but if he wasn't available they had some back up ideas. It's reported that Stephen Amell has said that one of the backup ideas was to reach out to Justin Hartley of This Is Us, who played Green Arrow on Smallville. That might have been one of the most meta casting choices of all time… but I think Tommy was the best choice overall.
Enjoyed this article? Share it!