"Arrow" Star David Ramsey on Diggle/Green Lantern Corp Rumors: "You are Absolutely Going to Get Your Answers"
Now that the dust has settled from "Crisis on Infinite Earths" – and The CW's Arrowverse is a bit more "cozier" because of it – the changes are starting to be felt across all of our shows. Arrow is ending its run after eight seasons – only to become Green Arrow and the Canaries; while The Flash, Supergirl, Batwoman, and DC's Legends of Tomorrow have to rewrite their "universe scorecards" to adjust for some major changes in the status quo. Did we mention Black Lightning doesn't have the benefit of past crossovers to help with its transition? Meanwhile, viewers have Superman & Lois to look forward to down the road as the pilot script was given a series order. Yup, change is in the air – and throughout the universes.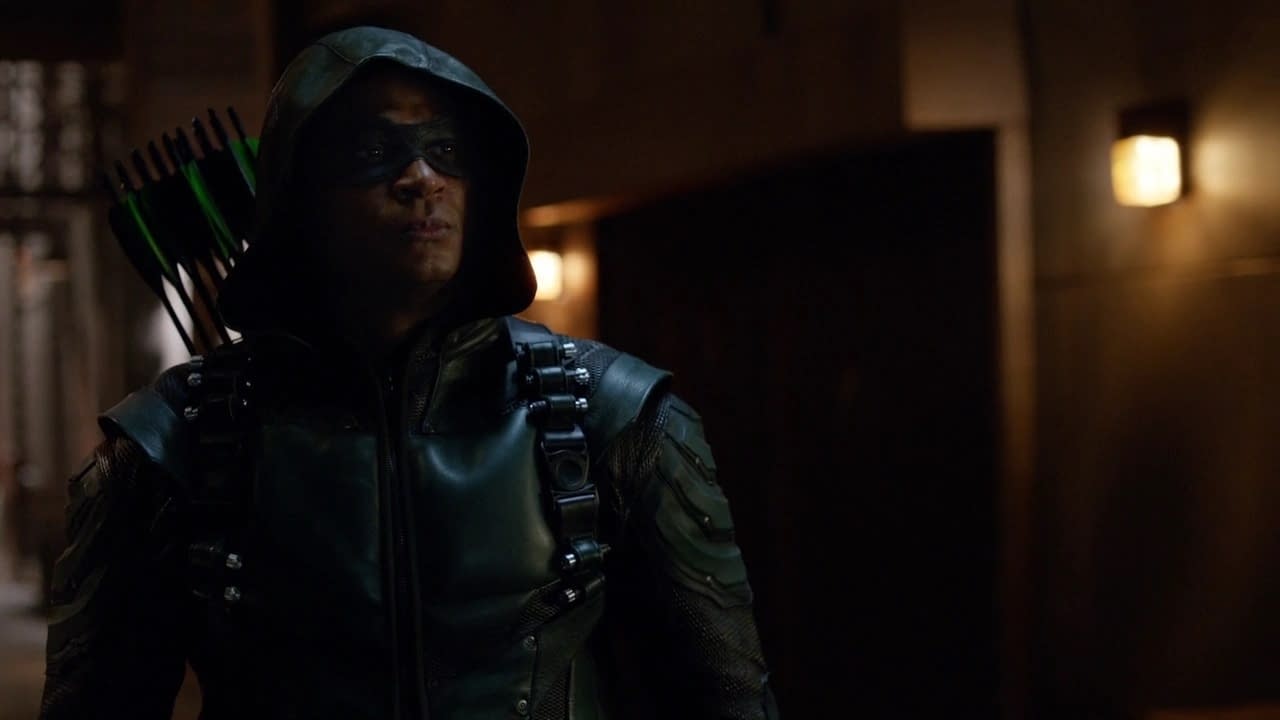 Heading into the show's final chapter, there's still one leftover mystery that fans would like a resolution to: the deal between John Diggle (David Ramsey) and the ring-wielding universal law-n-order organization known as the Green Lantern Corp. We've had clues dropped during the "Elseworlds" crossover (when Flash-90 mistook him for the ring-bearer he knew) and seventh season outing "Spartan" (with Diggle's grandfather being named "General Roy Stewart"… hmmm…).
Flash ahead to the past few months, and two more interesting developments. First, Green Lantern Corp home planet Oa was spotlighted at the end of Arrowverse crossover "Crisis on Infinite Earths". Then it was announced that Arrowverse guru Greg Berlanti was developing a Green Lantern/Green Lantern Corp series for HBO Max.
So with the pop culture "stars" aligning like that and the final episode of Arrow happening next week, there has to be some kind of resolution to the Diggle/Green Lantern Corp deal – right?
According to Ramsey, viewers should expect some revelations coming their way – offering this quote when speaking with TVLine:
"Without a doubt. You are absolutely going to get your answers. And well-deserved answers. We've been talking about this for years, and I think everyone by series' end will be very happy."
As for Berlanti's upcoming Green Lantern/Green Lantern Corp series, Ramsey is really excited by what he's learned about the project from Berlanti – saying:
"I've talked to Greg about it, and they have a great plan. It sounds fantastic. People are champing at the bit to see this universe, to see this military corp come to live-action, and I'm among the people who are so excited.

It's great for for television, man. I mean, people are going to be really stoked about this show."
The CW has released the first set of preview images and the episode overview for Oliver's final goodbye, "Fadeout" – and this last run brings some familar faces with it: Emily Bett Rickards, Colton Haynes, Grant Gustin, and more -as you're about to see:
"Arrow" season 8, episode 10 "Fadeout": STEPHEN AMELL SIGNS OFF AS THE GREEN ARROW; EMILY BETT RICKARDS RETURNS FOR THE SERIES FINALE OF "ARROW" – After eight seasons, and the launch of countless superheroes, the series wraps up the story of the Green Arrow (Stephen Amell). Emily Bett Rickards returns as Felicity. James Bamford directed the episode written by Marc Guggenheim & Beth Schwartz