Arrowverse: Guggenheim on Not Getting DC Studios/Gunn & Safran Meeting
In a substack update, Marc Guggenheim (Arrowverse) shared his thoughts on not getting a meeting with DC Studios' James Gunn & Peter Safran.
---
As we all know by now, the end of January 2023 saw DC Studios' co-heads James Gunn & Peter Safran unveil "Chapter 1 – Gods and Monsters," their first wave of films & series comprising their vision of a new DCU. In addition, the duo revealed they had assembled a writers' room to assist them in formulating an 8-10 year plan that included Drew Goddard (The Martian), Jeremy Slater (Moon Knight), Christina Hodson (Birds of Prey), Christal Henry (Watchmen), and Tom King (Batman, The Vision) – with some of those names expected to follow certain projects into development. What we didn't realize at the time was that a few days later, Marc Guggenheim, one of the founding forces behind The CW's "Arrowverse" (Arrow, The Flash, Supergirl, etc.), had posted an update on Substack expressing his feelings on not having gotten "at least a meeting" and how that's impacted his feelings on his time spent in the DCU.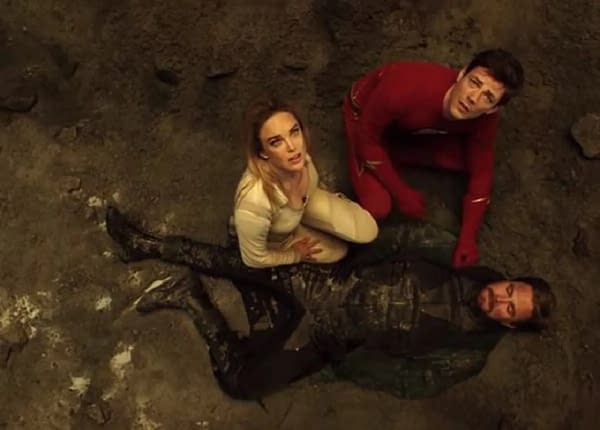 In an update from February 3rd entitled "NO GOOD DEED…" (which is finding new life on social media as The CW's The Flash and the "Arrowverse" nears its end), Guggenheim revealed that he had considered ending his newsletter. To explain his reasoning, Guggenheim offered what he described as "a truncated version of what I'd originally written" for the update but didn't run. Over the course of what follows, Guggenheim highlights his time in the "Arrowverse," focusing on "Crisis on Infinite Earths" and the five-part crossover's ability to interconnect various universes (even the 1990 The Flash and 1966 Batman series) "years before 'Doctor Strange and the Multiverse of Madness'":
"The project, a live action adaptation of a seminal comic book series that made a significant impression on my psyche, was more than a labor of love — it was a labor in every respect and a project where I spent every ounce of capitol I'd amassed in developing DC Comics-related shows for Warner Bros. over an eight-year period. I called in every favor. I used every chit. I burned every bridge. I even spent $10,000 of my own money."
Yet, Guggenheim reveals that he wasn't contacted when the plans for Gunn's & Safran's new DCU began coming together. And though he understands and appreciates the duo wanting to start fresh with a vision "as ambitious as the DC Universe deserves," Guggenheim also added, "I would have liked to have gotten at least a meeting." As he saw it, the gesture would've been "a small recognition" of his efforts to influence "the grand tapestry that is the DC Universe." Guggenheim ended the excerpt with, "I'd only spent nine years toiling in that vineyard, after all. (Not including many more years co-writing the 'Green Lantern' movie, a 'Green Lantern streaming series, and comic books like 'The Flash,' 'Batman Confidential,' 'Adventures of Superman,' and 'Justice Society of America.')."
Shifting back to the update he did write & post, Guggenheim continued by adding that the original update would've had "some other stuff which basically boiled down to me lamenting that although working for DC had been creatively fulfilling, it involved a lot of adversity, challenges, and personal sacrifices — none of which seem to have accrued to any professional benefit. Simply put, the Arrowverse hasn't led to any other gigs, so it feels — at least on a career level — that I really wasted my time." But in the original, scrapped post that Guggenheim shared, he added that he was "deeply grateful" for how the fans supported the "Arowverse" over the years. "I don't mean to belittle this in the slightest – fans loved what we did. There were Tweets. There were posts. There were memes. There was much discussion. All of which I was – and remain – deeply grateful for. Working on these shows, we always reminded ourselves that the opposite of love was not hate; it was apathy, and no matter what, there was never any apathy."